An 18lb shot is an item used in the shot put room, one of the activities that can be found in the Warriors' Guild. The shot put room is located on the 1st2nd floor[UK] in the north-east corner of the guild. In the room, there are two shotput lanes one of them is the 18 lb shotput lane and the other one the 22 lb lane. To begin the activity, you must have nothing equipped in your weapon, shield or glove spot.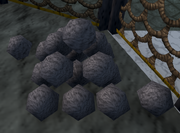 Trivia
You cannot use Telekinetic Grab on these items. Trying to do so will show the message "I can't use Telekinetic Grab on this object."
NPCs
Animated armour
Barrels
Cyclopes
Other activities
 Defensive shield
18lb shot
Shops
Community content is available under
CC-BY-SA
unless otherwise noted.