Template:Infobox Event
The 2012 Easter Event: A Fowl Easter was released on 2 April 2012. It's based on a typical Easter egg hunt but with a RuneScape twist. The player can join either the Chocatrice's team or the Evil Chicken's team and scavenge five eggs.
The Easter Bunny has fallen from White Wolf Mountain (with a rock tied to his foot) and is unfit for duty because he broke his big toe. He has, however, already hidden five magic eggs around Gielinor (two of which are in members-only areas). In Varrock Square, the Evil Chicken and Chocatrice (from the 2007 Easter event) are having a showdown. The Chocatrice wants to turn the chicks inside the eggs into chocolate while the Evil Chicken wants to turn them into drumsticks.
The player must help them by finding the eggs, then opening them and shooting the chick with the eggsterminator cannon. This cannon either turns them into drumsticks or chocolate treats. Both can be eaten or given to respectively the Evil Chicken or the Chocatrice.
If three treats are brought to the right creature (i.e. 3 chocolate treats to the Chocatrice or 3 drumsticks to the Evil Chicken), the player receives a chocolate egg on face mask, which turns the head of the player into a chocolate egg with a ribbon around it when worn or a egg on face mask, which covers the top of the head and has a fried-egg covering the player's right eye. The mask received depends on the side that is chosen. Players who help the Chocatrice receive the chocolate version while players who help the Evil Chicken receive the regular version.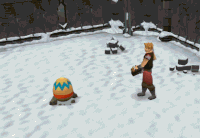 Neither helmet has a special emote that can be used when worn but when shot by the eggsterminator by another player, the masks reveal a secret emote where the player spins around as they are hit. Each emote varies depending on the mask being worn.
Every 2 hours or so new eggs will spawn in new places. Rubble is seen at old locations.
Players must speak to Evil Chicken or the Chocatrice at the start of each wave to take part. If they do not, the player will not be able to crack the eggs.
Egg locations
Old waves are now being archived here to reduce the size and loading time of this page.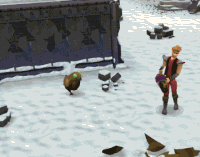 Wave 47 (ONGOING)
During the forty-seventh wave, the eggs were located in the following places:
Wave 48 (UPCOMING)
Starts at 6:00am UTC
Wave 49 (UPCOMING)
Starts at 8:00am UTC
Wave 50 (UPCOMING)
Starts at 10:00am UTC
Rewards
All players
Note that it is possible to obtain both the egg on face and chocolate egg on face masks. To do this, simply complete one of the egg hunts with the Chocatrice, and the other for the Evil Chicken. Not all 5 of each item must be brought to either NPC, as for each helmet, players only require 3.
Members only
Possible locations
P2P
F2P
Gallery
Trivia