Walkthrough
| | |
| --- | --- |
| Start point | Speak to Launa by the rift just south-east of the earth altar. |
| Member requirement | Free to play |
| Official difficulty | Novice |
| Official length | Short to Medium |
| Requirements | Skill requirements are not boostable unless marked with a [B] for boostable. |
| Items required | Items from the tool belt are not listed unless they do not work or are not automatically added. |
| Recommended | |
| Enemies to defeat | |
Getting Started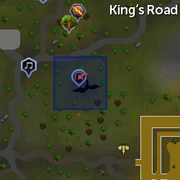 Tolna's Rift
Room of Rage
Near the entrance is a set of weapons.
Different weapons kill different monsters. Kill monsters until the rage meter at the top of the screen is full.
Enter the Exit to the east to proceed.
Room of Fear
Look-inside random dark holes alongside wall. Kill the fear reapers as they appear.
Continue the process until you receive a cutscene.
After the cutscene, Enter the black hole on the west wall to proceed.
Room of Confusion
In this room, the confusion beast must be killed. There will be four fakes and one real one.
Kill the real beast five times.
Enter the single remaining confusing door for a cutscene.
After the cutscene, enter the door again to proceed.
Room of Hopelessness
In this room, the Hopeless creatures must be killed. Each has three forms and restores 75% of life points when the player eats.
Kill all of the creatures.
Cross the bridge and Use the Exit.
Tolna
Kill all three of Tolna's heads.
Talk to Tolna.

If he doesn't spawn, simply exit and re-enter.

On the surface, talk to Tolna again.
Quest complete!
Rewards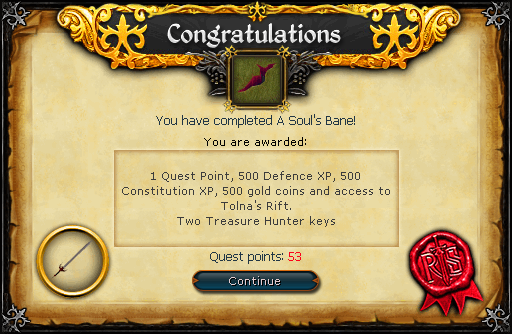 Music unlocked
Community content is available under
CC-BY-SA
unless otherwise noted.