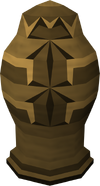 The accursed urn (nr) is an item used to make an accursed urn. It is made by firing an accursed urn (unf) in a pottery oven, requiring level 26 Crafting and giving 37.5 experience. It can be made into an accursed urn (r) by attaching an air rune, giving 1 Prayer experience.
Creation
Accursed urn (nr)
-
37.5 XP
-
1,336
Requirements
Crafting level
26
Members only
No
Materials
Item
Quantity
Price
Total
Accursed urn (unf)
1
N/A
-
Disassembly
Cooking
Divination
Farming
Fishing
Hunter
Mining
Prayer
 Impious
 Accursed
 Infernal
Runecrafting
Smithing
Woodcutting
Community content is available under
CC-BY-SA
unless otherwise noted.