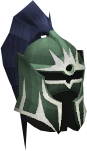 Trimmed adamant full helms (in-game Adamant full helm (t)) are rewards from medium clue scrolls, as part of the Treasure Trails Distraction and Diversion. It has the same defence bonus as a normal adamant full helms. It requires 40 defence to wear.
Non-members can purchase these from other players and use them, but non-members and members alike cannot obtain them through the Smithing skill.
There is no way for players to convert normal adamant full helmets into the trimmed variety. Unscrupulous players sometimes claim that they can do this and attempt to trick other players into giving them normal helmets with the promise that they will convert them into the trimmed variety.
Combat Stats
Requirements
40
Class
Slot
Melee
Tier
Type
40
Tank armour
Weapons
Main
Off
Damage
-
-
Accuracy
-
-
Style
-
Range
-
Attributes
Damage reduction
Armour
125
PvM:

0.8%

PvP:

1.5%

Life points
0
Style bonuses
Prayer
0

0

0

0

[FAQ] • [doc]
Drop sources
This list was created dynamically. For help, see the FAQ.
To force an update of this list, click here.
For an exhaustive list of all known sources for this item, see here.
Disassembly
Trivia
Melee weapons
Ranged weapons
Tools
 Hatchet
 Pickaxe
Armour
Rewards
Other
Treasure Trail
Tank
Power
Barrows
Minigame
Promotional
 Starfire
 Starfury
Trimmed
 Black
 Adamant
 Rune
Gold trimmed
 Black
 Adamant
 Rune
Black heraldic
Adamant heraldic
Rune heraldic
Rune god
Dragon
 Ornamental
 Spiked
Dyed
Other
Black
Adamant
Rune

| | |
| --- | --- |
| Trimmed | |
| Gold-trimmed | |
| Gilded | |