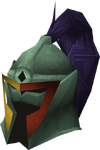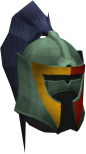 An adamant helm (h5) is a helmet obtained from the Level 2 Treasure trails or bought from other players. It cannot be made using the Smithing skill. Players wear it for its unique design. It has stats identical to that of an adamant full helm, and requires 40 Defence to equip.
Drop sources
This list was created dynamically. For help, see the FAQ.
To force an update of this list, click here.
For an exhaustive list of all known sources for this item, see here.
Disassembly
Tank
Power
Barrows
Minigame
Promotional
 Starfire
 Starfury
Trimmed
 Black
 Adamant
 Rune
Gold trimmed
 Black
 Adamant
 Rune
Black heraldic
Adamant heraldic
Rune heraldic
Rune god
Dragon
 Ornamental
 Spiked
Dyed
Other
Melee weapons
Ranged weapons
Tools
 Hatchet
 Pickaxe
Armour
Rewards
Other
Treasure Trail

| | |
| --- | --- |
| Trimmed | |
| Gold-trimmed | |
| Heraldic armour | |
| Other |  Cane |