Arcane: League of Legends - The Loop
Play Sound
An aegis of devotion is a shield that can be obtained from collecting rose petals and sprinkling 200 of them. Its "Hate" counterpart is the bulwark of revenge. It has 6 tiers of level requirements to wield. The level of the shield can be switched by right-clicking when unequipped and selecting "Change level".
It can be reclaimed from Diango for 25,000 coins if lost or destroyed.
It is also available in the 2016 event for 100 Valentine's petals.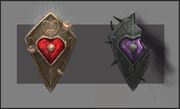 Combat Stats
Requirements
1
Class
Slot
Hybrid
Tier
Type
20
Shield
Weapons
Main
Off
Damage
-
-
Accuracy
-
-
Style
-
Range
-
Attributes
Damage reduction
Armour
30
PvM:

2%

PvP:

0%

Life points
0
Style bonuses
Prayer
0

0

0

0

[FAQ] • [doc]
Combat Stats
Requirements
10
Class
Slot
Hybrid
Tier
Type
25
Shield
Weapons
Main
Off
Damage
-
-
Accuracy
-
-
Style
-
Range
-
Attributes
Damage reduction
Armour
40
PvM:

2.5%

PvP:

0%

Life points
0
Style bonuses
Prayer
0

0

0

0

[FAQ] • [doc]
Combat Stats
Requirements
20
Class
Slot
Hybrid
Tier
Type
35
Shield
Weapons
Main
Off
Damage
-
-
Accuracy
-
-
Style
-
Range
-
Attributes
Damage reduction
Armour
63
PvM:

3.5%

PvP:

0%

Life points
0
Style bonuses
Prayer
0

0

0

0

[FAQ] • [doc]
Combat Stats
Requirements
30
Class
Slot
Hybrid
Tier
Type
45
Shield
Weapons
Main
Off
Damage
-
-
Accuracy
-
-
Style
-
Range
-
Attributes
Damage reduction
Armour
90
PvM:

4.5%

PvP:

0%

Life points
0
Style bonuses
Prayer
0

0

0

0

[FAQ] • [doc]
Combat Stats
Requirements
40
Class
Slot
Hybrid
Tier
Type
55
Shield
Weapons
Main
Off
Damage
-
-
Accuracy
-
-
Style
-
Range
-
Attributes
Damage reduction
Armour
125
PvM:

5.5%

PvP:

0%

Life points
0
Style bonuses
Prayer
0

0

0

0

[FAQ] • [doc]
Combat Stats
Requirements
50
Class
Slot
Hybrid
Tier
Type
65
Shield
Weapons
Main
Off
Damage
-
-
Accuracy
-
-
Style
-
Range
-
Attributes
Damage reduction
Armour
170
PvM:

6.5%

PvP:

0%

Life points
0
Style bonuses
Prayer
0

0

0

0

[FAQ] • [doc]
All
Hybrid
Falador
Promotional