The Agility Pyramid is a dangerous Agility training area located between Sophanem and Nardah. It is also known as Jaleustrophos Pyramid. Here, players have to climb up to the top of the pyramid, retrieve a Pyramid top artefact, and slide down to the bottom to hand it to Simon Templeton. After getting to the Agility Pyramid, players should talk to Simon Templeton to learn what they need to do. The Surefooted aura does not work here. Pets and familiars are not allowed on the pyramid.
The unofficial world for the Agility Pyramid is world 70.
Requirements
Recommended
Desert amulet 2 or higher reduces failure chance
For low Agility levels, the following items weigh less than 0.0 kg: desert robes, wicked hood, wicked cape, boots of lightness, 4-5 waterskins and a ring of kinship. Agility potions will boost your stats, summer pies and wild pies will do the same. The important rule is to have less weight in Agility training.
Desert robes (or Dervish Outfit obtained from the Loyalty Programme)
At least 5 waterskins (Or an Enchanted water tiara, after Dealing with Scabaras) 
You may want to bring some food too, in case you get hurt by failing obstacles.
Completion of Spirits of the Elid quest. If you have completed Spirits of the Elid, you can recharge your constitution and prayer points at the Elidinis Statuette in Nardah, as well as refill your waterskins at the nearby fountain.
Location
The Agility Pyramid is situated in the dangerous Kharidian Desert, between the towns of Sophanem and Nardah.
It is located east from the crocodile pond north of Sophanem, past the Wanderer's tent.
Getting there
There are several ways of getting to the Agility Pyramid:
The fastest way is to use the Jaleustrophos teleport of the Pharaoh's sceptre.
Magic carpet

Take a carpet ride from Shantay Pass to Sophanem (requires starting Icthlarin's Little Helper), and walk north-east to the pyramid.

A bank is available in Sophanem upon the completion of the Contact! quest.

Take a carpet ride to Nardah, and walk South-west from Nardah. (The route is shown in PINK.)

A bank is available in Nardah.

Take the Camulet teleport, and run east south east.
Use the fairy ring system to enter one of the desert portals, and run from there.
Use the ring of slaying to teleport to Sumona's house in Pollnivneach then take the carpet ride south to Nardah then walk South-west.
Having your POH (Player-Owned House) at Pollnivneach (or use a chipped house tablet (requires completion of Love Story)), using house teleport and then walk to the pyramid, or use the carpet.
Get a recommendation from Drill Sergeant Hartman and get a free teleport to the Agility Pyramid.
Items to Bring
Starting off
Talk to Simon Templeton, who can be found near the Agility Pyramid. He will explain that he works for the Varrock Museum, and an artefact must be retrieved from the pyramid. Retrieving the artefact is not going to be easy, as there are many obstacles to overcome in order to reach the top of the pyramid, and claim the prize.
Climb up the stairs to start the course.
You must run clockwise, layer by layer up the pyramid. There are no shortcuts.
Obstacles
Obstacle
XP
Occurrences
Description
Rolling Blocks
12
5
These blocks roll when stepped on. If successful, players will be thrown to the next block. If they fail, it will roll them down one level within the pyramid and cause 60 life points of damage. If you go backwards you will always roll down and cause 10 life points of damage. They can be recognised as grey round stones. You can examine them on the floor below, and they are called stone blocks.
Climb-over Low Wall
8
4
These are low walls that players can climb over. Players may occasionally slip and take 40 life points of damage.
Moving Blocks
0
2
Moving blocks may push players off the level. If timed properly, players will be able to get past these blocks. If incorrectly timed, players will be pushed down to the level below and hit for 80 life points of damage.
Cross Ledge
52
4
Players will have to walk across a small ledge. Players may occasionally trip and fall down one level, causing 100 life points of damage.
Cross Plank
56.4
2
Players will have to cross the plank "bridge" to move past. Occasionally, players may slip and fall down one level, causing 100 life points of damage.
Cross Gap
56.4
3
Players will have to cross a gap. They can lose their grip and fall to the level below, causing 80 life points of damage.
Jump Gap
22
6
Players will have to jump over this gap. Players may occasionally miss their footing and comically fall to the level below, causing 80 life points of damage.
Climb-up Stairs
0
5
Climbing up the stairs will get players one level higher.
Bonus
500
1
Bonus for completion of the entire course.
TOTAL
1214
The time taken to complete the entire course, without failing, is roughly 160 seconds (2 minutes and 40 seconds).
Finishing off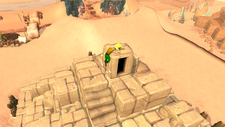 Once at the top, players will find a temple of some sorts, with the artefact sitting on top.
Climb up the climbing rocks at the side of the temple, and claim the prize: the Golden Pyramid. Be sure to touch it.
You have a chance of getting a strange rock when you take the Golden Pyramid.
Go to the other side of the temple, and enter a doorway. Climbing down a steep passage leads to the base of the pyramid.
It is recommended to sell the pyramid top to Simon before beginning another ascent, as they are not stackable and weigh 11 kg each.
Treasure Hunter key tokens may also be given to the player as a reward whilst taking the Golden Pyramid.
Reward
Community content is available under
CC-BY-SA
unless otherwise noted.