The albino rat is a level 23 Summoning familiar. It is a level 27 combat familiar. When summoned it gives 2.3 Summoning experience. It has a special move called Cheese Feast, which can be activated if you have a Cheese feast scroll in your inventory.
Albino rat pouch
An Albino rat pouch is made by using a Summoning pouch on a Summoning obelisk with 75 spirit shards, a blue charm and raw rat meat in the inventory. Making the pouch earns 202.4 experience points. Using the pouch to summon an Albino rat gains 2.3 experience points, and costs 1 Summoning point.
Cheese feast scroll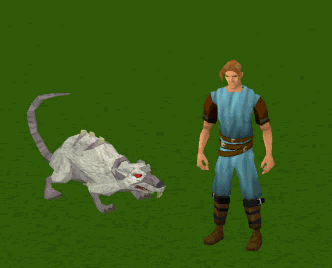 A Cheese feast scroll enables the use of the cheese feast special move for an Albino rat. Using the pouch on a Summoning obelisk creates 10 scrolls and provides 2.3 experience.
Cheese feast
Cheese Feast is the special of the Albino rat. It will fill the rat's inventory with 4 pieces of cheese. Using this ability requires 6 special move points and provides 2.3 experience. Because each piece of cheese restores 200 life points when eaten, Cheese Feast can gradually provide a decent amount of healing.
Dialogue
Trivia
The albino rat was graphically updated to have particle eyes on 12 October 2010.
The albino rat's dialogue options are a reference to Pinky from the cartoon Pinky and the Brain.
Regular familiars

Gold charm
Green charm
Crimson charm
Blue charm
 Albino rat
 Spirit kalphite
 Giant chinchompa
 Void shifter
 Void spinner
 Void torcher
 Bronze minotaur
 Iron minotaur
 Spirit jelly
 Steel minotaur
 Spirit graahk
 Spirit kyatt
 Spirit larupia
 Karam. overlord
 Mithril minotaur
 Obsidian golem
 Adamant minotaur
 Fire titan
 Ice titan
 Moss titan
 Lava titan
 Rune minotaur
 Light creature
 Geyser titan
Elder charm
Clay familiar
Other
 Meerkats
 Ghast
 Chocatrice
Small
Giant
Miscellaneous
 Albino rat
 King rat
Items
Community content is available under
CC-BY-SA
unless otherwise noted.