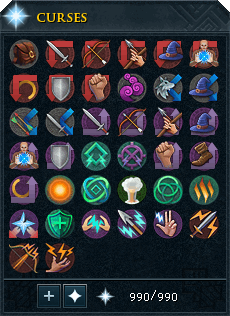 The Ancient Curses are a set of prayers obtained as a reward after completing The Temple at Senntisten. They consist of prayers ranging between levels 50 - 99 Prayer. Prayers of this set include combat skill boosts, stat drainers, and damage recoilers.
After completion of The Light Within, seven additional prayers are unlocked. These Seren prayers are focused on players performing supportive and skilling roles, rather than direct combat.
Requirements
Despite not being a requirement in any of the quests, 29 Defence is required to activate any curse from the prayer book.
Tasks:
Total level: 961
----
----
64
64
61
65
29
10
----
64
66
35
50
45
50
59
50
10
50
37
25
35
51
41
----
0
----
----
----
----
----
-----

Quests:
Switching to the Ancient Curses
The main altar that activates the Ancient Curses is the Altar of Zaros in the temple beneath the Digsite. After completing the elite Falador Tasks players can use an Ancient Hymnal on the altar in the White Knights' Castle to convert it to Zaros, allowing for activation of the Curses from that altar as well. Players who have completed Plague's End can use the Elven grimoire found within the Cadarn Clan district of Prifddinas.
Players can switch to the standard prayerbook again at any altar by default. One may choose to remove the option to switch to the standard prayerbook at normal altars. This will prevent the option menu from appearing, but to use the standard prayerbook again, the player will have to travel to the Altar of Zaros (or the Falador one). When the player has removed the option to revert to the standard prayerbook from normal altars, they may restore it at the Altar of Zaros.
Ancient Curses
Prayer
Level
Effects
Drain rate
(second per point)
Drain rate
(points per minute)
Notes
Protect Item
50
Keep 1 additional item when you die.
6
10
[1]
Sap Warrior
50
Drains enemy by 2 levels, increasing to 6 over time.
0.6
100
[2]
Sap Ranger
52
Drains enemy by 2 levels when determining hit chance, increasing to 6 over time.
0.6
100
[2]
Sap Range Strength
53
Drains enemy damage by 3%, increasing to 9% over time.
(Reduced to 2% to 6% in PvP)
0.6
100
[2]
Sap Mage
54
Drains enemy by 2 levels when determining hit chance, increasing to 6 over time.
0.6
100
[2]
Sap Magic Strength
55
Drains enemy damage by 3%, increasing to 9% over time.
(Reduced to 2% to 6% in PvP)
0.6
100
[2]
Sap Spirit
56
Drain enemy adrenaline.
(10% for every couple hits)
0.6
100
[2]
Sap Defence
57
Drains enemy by 2 levels, increasing to 6 over time.
0.6
100
[2]
Sap Strength
58
Drains enemy damage by 3%, increasing to 9% over time.
(Reduced to 2% to 6% in PvP)
0.6
100
[2]
Berserker
59
Boosted combat stats last 15% longer.
1.2
50
[1]
Deflect Summoning
62
Reduces damage dealt from Summoning attacks, prevents the use of a familiar's special moves, and can deflect some of the damage back to the attacker.
0.4
150
[3]
Deflect Magic
65
Provides 50% damage reduction against magical attacks and can deflect some of the damage back to the attacker.
0.4
150
[4]
Deflect Missiles
68
Provides 50% damage reduction against ranged attacks and can deflect some of the damage back to the attacker.
0.4
150
[4]
Deflect Melee
71
Provides 50% damage reduction against melee attacks and can deflect some of the damage back to the attacker.
0.4
150
[4]
Leech Attack
74
Boosts by 2 levels, increasing to 5 over time; drains enemy by 4 levels, increasing to 8 over time.
0.3
200
[5]
Leech Ranged
76
Boosts by 2 levels when determining hit chance, increasing to 5 over time; drains enemy by 4 levels when determining hit chance, increasing to 8 over time.
0.3
200
[5]
Leech Range Strength
77
Boosts damage by 2%, increasing to 8% over time; drains enemy damage by 6%, increasing to 12% over time.
(Enemy damage drain reduced to 4% to 8% in PvP)
0.3
200
[5]
Leech Magic
78
Boosts by 2 levels when determining hit chance, increasing to 5 over time; drains enemy by 4 levels when determining hit chance, increasing to 8 over time.
0.3
200
[5]
Leech Magic Strength
79
Boosts damage by 2%, increasing to 8% over time; drains enemy damage by 6%, increasing to 12% over time.
(Enemy damage drain reduced to 4% to 8% in PvP)
0.3
200
[5]
Leech Defence
80
Boosts by 2 levels, increasing to 5 over time; drains enemy by 4 levels, increasing to 8 over time.
0.3
200
[5]
Light Form
80
Doubles the chance of Seren-aligned spell effects occurring when using abilities.
0.2
300
[6][7]
Dark Form
80
Doubles the chance of Zaros-aligned spell effects occurring when using abilities.
0.2
300
[6][7]
Leech Strength
82
Boosts damage by 2%, increasing to 8% over time; drains enemy damage by 6%, increasing to 12% over time.
(Enemy damage drain reduced to 4% to 8% in PvP)
0.3
200
[5]
Leech Energy
84
Steals an enemy's energy and restores it to the player. (10% every other hit)
0.3
200
[5]
Leech Adrenaline
86
Steals an enemy's adrenaline and restores it to the player. (10% every other hit)
0.3
200
[5]
Chronicle Absorption
87
Automatically absorbs chronicles while training divination, granting Hunter and Divination XP.
0.6
100
[1][6]
Soul Link
88
Equally shares all damage and healing with another player also using this effect.
0.2
300
[6][8]
Wrath
89
Inflicts damage of up to 25x your level to all nearby enemies in a 5×5 area upon death.
0.3
200
[4][9]
Teamwork Protection
89
Gives 5% damage reduction and 1% damage reflection for all nearby players who have the same prayer active. Stacks up to 5 times for a total of 25% reduction and 5% reflection.
0.2
300
[6][8]
Superheat Form
91
Automatically burns logs and smelts ore into bars for XP.
0.6
100
[1][6]
Soul Split
92
Heals a player by 10% of the damage dealt, and lowers the enemy's Prayer points by 1 point for every 85 damage.
0.2
300
[4]
Fortitude
94
Boosts Defence by 15%, adds 3% damage reduction, increases life points by 10 + 10 per Constitution level, increases accuracy of Defensive abilities by 10%, doubles base regeneration and allows regeneration in combat.
0.2
300
[6][10]
Turmoil
95
+10 levels when determining hit chance
+10% damage
+10 levels
-6 enemy levels when determining hit chance, increasing to -10 over time
-6 enemy levels, increasing to -10 over time
-9% enemy damage, increasing to -15% over time (PvM)
-6% enemy damage, increasing to -10% over time (PvP)
0.2
300
[10]
Anguish
95
+10 levels when determining hit chance
+10% damage
+10 levels
-6 enemy levels when determining hit chance, increasing to -10 over time
-6 enemy levels, increasing to -10 over time
-9% enemy damage, increasing to -15% over time (PvM)
-6% enemy damage, increasing to -10% over time (PvP)
0.2
300
[10]
Torment
95
+10 levels when determining hit chance
+10% damage
+10 levels
-6 enemy levels when determining hit chance, increasing to -10 over time
-6 enemy levels, increasing to -10 over time
-9% enemy damage, increasing to -15% over time (PvM)
-6% enemy damage, increasing to -10% over time (PvP)
0.2
300
[10]
Malevolence
99
+12 levels when determining hit chance
+12% damage
+12 levels
-6 enemy levels when determining hit chance, increasing to -10 over time
-6 enemy levels, increasing to -10 over time
-9% enemy damage, increasing to -15% over time (PvM)
-6% enemy damage, increasing to -10% over time (PvP)
0.15
400
[10][11]
Desolation
99
+12 levels when determining hit chance
+12% damage
+12 levels
-6 enemy levels when determining hit chance, increasing to -10 over time
-6 enemy levels, increasing to -10 over time
-9% enemy damage, increasing to -15% over time (PvM)
-6% enemy damage, increasing to -10% over time (PvP)
0.15
400
[10][11]
Affliction
99
+12 levels when determining hit chance
+12% damage
+12 levels
-6 enemy levels when determining hit chance, increasing to -10 over time
-6 enemy levels, increasing to -10 over time
-9% enemy damage, increasing to -15% over time (PvM)
-6% enemy damage, increasing to -10% over time (PvP)
0.15
400
[10][11]
Trivia