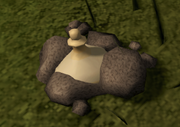 Ancient relics are exclusive rewards obtained during the Smashing Relics promotion on Treasure Hunter. They can be smashed onto the ground to obtain rewards within, which include a medium cash bag, and a random reward like gems, prismatic lamps, and former Treasure Hunter and Squeal of Fortune items.
In addition to Treasure Hunter, members can also receive up to two ancient relics per day by finding them partially buried in the ground in various places. Ironmen, however, cannot pick up these buried relics, instead getting the message 'nothing interesting happens'.
LocationsEdit
Partially buried relics can be found on members' worlds in the locations listed in the table below. The relics do not appear on the minimap, and there are no requirements to obtain them (aside from the restriction on ironmen). As the locations vary by world, and also change each hour, not every location listed will currently have a relic. Having picked a relic from another location may cause a player to not see a relic that the other players do.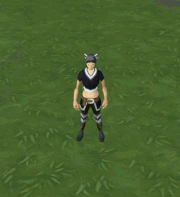 Upon smashing an ancient relic, the player will always receive a medium cash bag and one additional secondary reward from the following table.
Alternatively, following the 19 July 2018 iteration of the Smashing Relics promotion's return, a player may receive one of the following Solomon's General Store cosmetic overrides as a secondary reward:
Release historyEdit