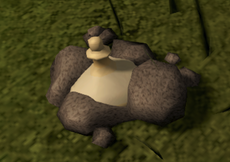 Ancient relics are exclusive rewards obtained during the Smashing Relics promotion on Treasure Hunter. They can be smashed onto the ground to obtain rewards within, which include a medium cash bag, and a random reward like gems, prismatic lamps, and former Treasure Hunter and Squeal of Fortune items.
Players can also receive up to two ancient relics per day by finding them buried in the ground. They can be found in the following locations:
They can appear in different places on different worlds. Their location also changes after every ?? minute.
Rewards
The following is a selection of prizes which players can receive from smashing an ancient relic. More than 1 reward may appear at a time: