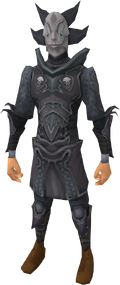 Anima Core of Sliske (or Sliske's Parody, as a set bonus) is an item set that can be obtained from the Heart of Gielinor. It requires 80 Defence to wear.
It is capable of triggering warpriest armour set effects if a complete set of the warpriest armour is owned (keepsaked warpriest armour counts). The full Anima Core of Sliske set (Helm, body, and legs) must be worn for the effect to activate. Disassembling warpriest armour pieces for Invention components will not remove the respective set effect from this armour once unlocked.
Sliske's Parody can be upgraded to Refined Sliske's Parody armour using 1-3 Serenic, Sliskean, Zamorakian, and Zarosian essence per each piece of the armour, after the ability to craft Refined Sliske's Parody armour has been unlocked by earning 2,000 reputation with the Sliskean faction. 1 of each essence is required to create the helm, 2 are required to make the legs and 3 are required to make the body.
Set effects
Players can choose from three set effects:
| Name | Effect | Warpriest set |
| --- | --- | --- |
| Divine Shield | Chance to reduce damage by 90%. | Saradomin or Zamorak |
| Divine Surge | Chance to reduce cooldown duration on abilities. | Armadyl or Bandos |
| Tuska's Might | Chance to deal critical damage to a target. | Tuska |
Using the Saradomin or Zamorak effect negates the Lucky perk.
When the effect of Divine Shield activates, a divine shield appears in front of the player, and the following message appears in the chat box: The divine protection of your armour reduces the damage of this attack by <AMOUNT>.
If the set effect for Divine Shield activates while wielding a weapon aligned to either Saradomin or Zamorak, the chat box will display the same message that would accompany an activation while wearing their respective warpriest armour (eg. "Zamorak's blessing reduces the damage of this attack by <AMOUNT>.").
Prices
Regular armour
Refined armour
Refined Anima Core of Sliske equipment reverts back to an unrefined version after 100,000 charges of combat, where it can be crafted again using more essences. It can also be restored to 100% charge at any time using 1-3 of each essence depending on if the piece is a helm, body, or leg (essentially re-creating it). Doing so costs 87,548,808 coins for the full set.
Stats
Free-to-play
Members
NPCs

Bosses
Monsters

| | |
| --- | --- |
| Serenist | |
| Sliskean | |
| Zamorakian | |
| Zarosian | |
Faction rewards

Seren
Sliske
Zamorak
Zaros
Community content is available under
CC-BY-SA
unless otherwise noted.