The ankh is an off-hand item found in the Apmeken tomb in the wall surrounding the Monkey colony after the Do No Evil quest. The cave can be entered by using the "Climb to exit" on a point near the top of the south wall. You will also find an Apmeken mask in the cave. In order to see the fissure you must have also completed the Diamond in the Rough quest.
Entering the tomb requires 80 Agility, rewarding 20,000 Agility experience when entering for the first time. Experience boosts and double experience can be used to boost the experience reward.
Wearing the ankh together with the Scabaras mask while in the desert is one of the elite Desert Tasks.
Since 5 June 2017, the ankh can also be worn as a cosmetic override called Pantheon (Apmeken) Ankh.
Combat Stats
Requirements
None
Class
Slot
Magic
Tier
10
Weapons
Main
Off
Damage
-
-
Accuracy
-
202
Style
Spell-casting
Range
8
Speed

Average (3.6s)

Attributes
Damage reduction
Armour
0
PvM:

0%

PvP:

0%

Life points
0
Style bonuses
Prayer
0

0

0

0

[FAQ] • [doc]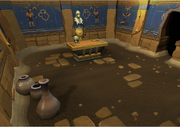 Trivia
This symbol comes from ancient Egyptian hieroglyphs. It symbolises the key of life, which is synonymous with the key of the Nile.
On release, the Ankh was given 20 higher accuracy than the Virtus book, making it the best magic off-hand weapon in the game. However, this was changed in an update on 11 December 2012.
When wielding the Ankh when sheathed, it will appear unsheathed.
Desert pantheon equipment

Masks
Weapons
 Ankh
 Heka
 Nekhakha
 Uraeus (Apep's axe)
 Was
 Sceptre of the gods
 Pharaoh's sceptre
Other
 Aten (Heru's shield)
 Robe of Elidinis (top)
 Robe of Elidinis (bottom)
Promotional
Orbs
Books
Rewards
 Draccles
 Ankh
 Heka
Recoloured mages' book
Dyed seismic singularity
Dyed imperium core
Promotional
 Broken heart
 Exquisite orb
 Imcando arcane focus
Community content is available under
CC-BY-SA
unless otherwise noted.