Walkthrough
Start point

Ur-Tag's house upstairs in northern Dorgesh-Kaan.
Member requirement
Members only
Official difficulty
Intermediate
Official length
Medium
Requirements
Skill requirements are not boostable unless marked with a [B] for boostable.

Quests:

Items required
Items from the tool belt are not listed unless they do not work or are not automatically added.

Recommended items:

Enemies to defeat
Getting started
Artefacts
While on the same floor, head west then south until a transport icon is seen on the minimap.
Enter the doorway, head south and talk to Tegdak.
Use the trowel on the 6 artefacts on the ground to dig them up.
Use each of them on the specimen table.
Talk to Tegdak.
Zanik will now be following you.
With Zanik following, exit and talk to the Goblin scribe, west of the quest start point.
In the house just west of the Goblin scribe, climb down the stairs.
Talk to Oldak. You will be teleported to Goblin Village with Zanik, receiving a Dorgesh-kaan sphere in your inventory.
The Goblin Village
In Goblin Village, in the northernmost building, talk to either General Bentnoze or Wartface.
After the cutscene, go behind the buildings to the west then go south until a tower is seen. Climb the ladder.
Kill the H.A.M. Mage and H.A.M. Archer.
Talk to either of the goblin generals.
Infiltrating H.A.M.
With a light source, head to the Lumbridge Swamp Caves entrance in the Lumbridge Swamp and talk to Sergeant Slimetoes or Mossfists.
Climb down the dark hole under the tree and go down the ladder.
With the guards out of sight, enter the small room. As they walk north passing the room, exit the room (let them see you for a second), then quickly run south and hide behind a crate.
When the guards are in the southern corridor where you and the goblins are hiding, run east then quickly back into the corridor to lure the last guard - hide behind a crate for a moment.
At this point, it is safe to run south as the goblins will keep the guards distracted.
Sigmund Reloaded
Equip the ancient mace and climb down the ladder.
Initiate combat with Sigmund. Once you reach 100% adrenaline, use its special attack to disable Sigmund's prayers.

Be sure to not have any ranged or magic equipment on as your special attack will miss.
The special attack ability can be found in the Constitution ability book.
After disabling his prayers, other weapons may be used to kill him.

After defeating Sigmund, untie Zanik.
Quest complete!
Rewards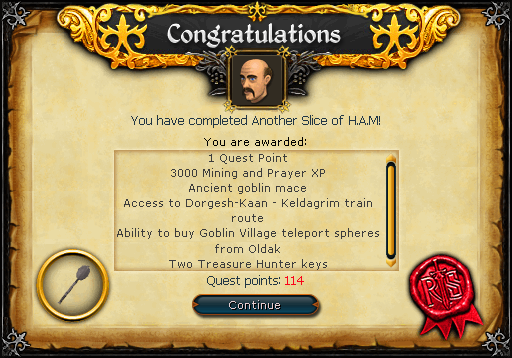 Music unlocked
Community content is available under
CC-BY-SA
unless otherwise noted.