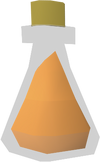 An anti-sun potion was an item obtained from the Summer Beach Party. It was received from killing Clawdia, or from participating in the beach activities. When used, the following message appeared: You apply the anti-sun potion to your skin and now feel more able to cope with the heat of the beach. You will get an extra 5% XP for any activity done on the beach for the next 24 hours.
It boosted experience gained from all activities done in the Lumbridge Crater, not just the ones offered by the event. Unlike the cocktails, the experience bonus provided by the potion did not stack with itself. If reapplied before the 24 hours are over, there was a warning message that showed how long the current dose will last.
The extra 5% experience bonus was highly useful in cutting the cost and time of training. Any activity that would otherwise be done while bankstanding can be done on the beach for an automatic 5% experience bonus. The bonus stacked with other bonuses such as perfect juju potions and portable skilling stations, as well as experience boosting outfits. For example, while on the beach with anti-sun potion applied, a full botanist's outfit on, perfect juju herblore potion effect, and portable well bonus experience, one achieved a 26% bonus to Herblore experience gained.
The anti-sun potion was tradeable during the 2015 Summer Beach Party but was changed into untradeable when the event ended, with its price at 735 coins down from its initial price of 15,000 coins. Attempting to use one after the event ended provides the message: This item no longer works as the power of the beach has expired. Following the 2016 party, any existing anti-sun potions were removed on 3 October 2016.
Drop sources
This list was created dynamically. For help, see the FAQ.
To force an update of this list, click here.
For an exhaustive list of all known sources for this item, see here.
NPCs
Items
Rewards
Interactive scenery
Music
Community content is available under
CC-BY-SA
unless otherwise noted.