Arrav's outfit
Release date
23 March 2015
Members
No
Components
13
F2P Price
400 RuneCoins
P2P Price
360 RuneCoins
Loyalty Points
N/A
Recolourable
No
Description
This full outfit lets you take on the appearance of Arrav of Avarrocka - one of the strongest warriors ever to have lived - Or died, for that matter - minus the Zemouregal mind control. If you own this outfit, and the one recieved from the Dimension of Disaster quest, you'll be able to wield a visually updated version of the two with an additional sword and shield override!
These cosmetics will not display
in PvP-enabled areas.
[view] • [talk]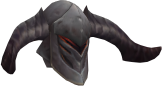 The Arrav outfit and Cursed Arrav outfit are cosmetic overrides available from Solomon's General Store for 360 RuneCoins for members. The outfit is based on Arrav in Dimension of Disaster. If the New Varrock Arrav outfit, the Arrav's sword and Shield of Arrav overrides are unlocked, the Cursed Arrav outfit will be made available. The upgraded version consists of a modified shield and sword as well as the set itself.
The Arrav outfit consists of:
Arrav Helm
Arrav Chest
Arrav Legs
Arrav Hands
Arrav Boots
The Cursed Arrav outfit consists of:
Cursed Arrav Helm
Cursed Arrav Chest
Cursed Arrav Legs
Cursed Arrav Hands
Cursed Arrav Boots
Cursed Arrav 1h Sword
Cursed Arrav 1h Sword (off-hand)
Cursed Arrav Shield
Gallery
Community content is available under
CC-BY-SA
unless otherwise noted.