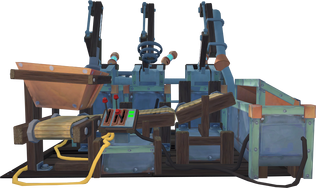 The auto disassembler mk. II is a machine that can be built in the Invention Guild basement at level 81 Invention. It automatically disassembles items put into it, even while the player is offline.
Every hour, on the hour, the auto disassembler will process up to 60 items deposited in it, consuming up to 230 machine charge. Building it requires 40 of the power allotment supplied by the generator. It can hold up to 13,000 items over the three input slots. Researching the auto disassembler mk. II blueprint awards 5300 Invention experience.
Once the auto disassembler has processed some items, the resulting materials will be placed in a pouch of components in the output slot. When the pouch is withdrawn, all the materials (including junk) will be added directly to the bag of materials. The auto disassembler also accounts for the player's researched level of junk chance reduction.
Analysis
The auto disassembler mk. II disassembles 60 items per hour at a cost of 230 machine charge. Thus, each item costs 3.8 machine charge to process - an equivalent of 154.2 coins per item.
The auto disassembler mk. II processes 1,440 items per day at a cost of 5,520 machine charge (just under 2 divine charges). When completely filled, it will take 9 days 1 hour to disassemble the 13,000 input items, using 49,910 machine charges (under 17 divine charges).
Community content is available under
CC-BY-SA
unless otherwise noted.