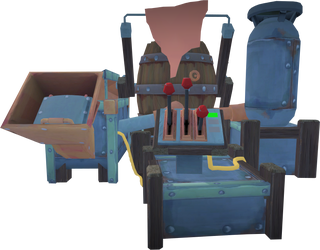 The Automatic hide tanner is a machine that can be built in the Invention Guild basement at level 93 Invention. It is a lower level version of the Optimised hide tanner. It automatically converts hides into leather, even while the player is offline. The automatic hide tanner does not incur the normal coin/rune cost for converting hides into leather.
Every hour, on the hour, the automatic hide tanner will process up to 45 items deposited in it, consuming up to 225 machine charge. Building it requires 25 of the power allotment supplied by the generator. It can hold up to 10,000 items over the three input slots.
Once the automatic hide tanner has processed some hides, the resulting leathers may be withdrawn via the machine management interface.
Analysis
The automatic hide tanner processes 45 items per hour at a cost of 225 machine charge. Thus, each item costs 5 machine charge to process - an equivalent of 85.8 coins per item.
The automatic hide tanner processes 1080 items per day at a cost of 5,400 machine charge (approximately 1.8 divine charges). When completely filled, it will take 9 days and 7 hours to process the 10,000 input items, using 50,175 machine charges (approximately 16.7 divine charges).
Profit
Note: the following table is based on GE prices. If they cannot be obtained, profits will be less.
Hide
(Value)
Leather
(Value)
Profit via
machine
Daily profit
Weekly profit
Profit via
tannery
 Snake hide
(

3,887

)
 Snakeskin
(

2,112

)

-1,860.8

-2,009,622.6

-14,067,358.2

-1,790

 Snake hide (swamp)
(

1,846

)
 Snakeskin
(

2,112

)

180.2

194,657.4

1,362,601.8

246

 Green dragonhide
(

1,681

)
 Green dragon leather
(

1,830

)

63.2

68,297.4

478,081.8

129

 Blue dragonhide
(

2,638

)
 Blue dragon leather
(

2,797

)

73.2

79,097.4

553,681.8

139

 Red dragonhide
(

2,905

)
 Red dragon leather
(

3,044

)

53.2

57,497.4

402,481.8

119

 Black dragonhide
(

3,331

)
 Black dragon leather
(

3,488

)

71.2

76,937.4

538,561.8

137

 Royal dragonhide
(

4,317

)
 Royal dragon leather
(

4,540

)

137.2

148,217.4

1,037,521.8

203