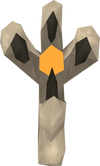 The aviansie wand component was an item found by defeating enemies in The Bird and the Beast, by participating in the conflict, and by helping to fill your god's caravans with divine energy. It can be combined with 1,000 Sacred metal fragments to unlock the Aviansie wand cosmetic override.
Drop sourcesEdit
This list was created dynamically. For help, see the FAQ.
To force an update of this list, click here.
For an exhaustive list of all known sources for this item, see here.
NPCs

| | |
| --- | --- |
| Armadyleans | |
| Bandosians | |
| Others | |

Combatants

| | |
| --- | --- |
| Armadyleans | |
| Bandosians | |
| Random events | |

Wisps
Warpriest armour
Tokens
Overrides

| | |
| --- | --- |
| Armadylean | |
| Bandosian | |
| Titles | |

Emotes
Other items
Locations