Bandos chronicles are wisps that can be found after The Mighty Fall, which are scattered throughout Yu'biusk. The chronicles can be read in Bandos's Memories.
They are similar to chronicle fragments from Divination, and will only appear when you come within close range of them, granting 10 Divination experience when caught.
Memory Location
In the troll camp east of the entrance
Along the path south of the troll camp
Along the path to Zarador
The ogre camp east of Zarador
Up the ladder south of Zarador
Graardor's camp southwest of the same ladder
Graardor's "secret weapon" camp to the east
The plateau south of the cyclops camp
Back down the ladder, Bork's camp east of your camp
Your camp
Under the bridge to the north of your camp
Northern part of the goblin camp
Southern part of the goblin camp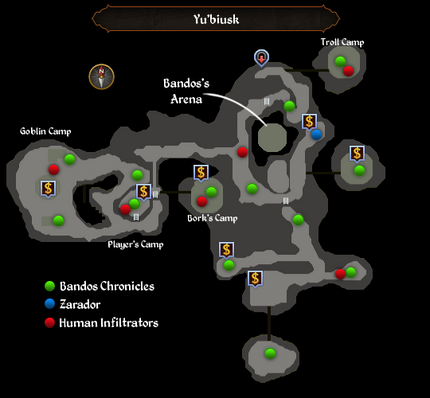 NPCs
Enemies
Scenery
Rewards
Locations
Music
Miscellaneous
Bandos chronicle
Community content is available under
CC-BY-SA
unless otherwise noted.