Bark Blamish Snail
Release
14 October 2004 (Update)
Members
Yes
Examine
A branch bark coloured blamish snail, these types are said to spit acid.
Combat info
Level
LP
XP
XP
14
500
32.1
10.5
Equipment XP (2H/MH & Armour/OH)
1 / 1 / 0
Aggressive
Poisonous
Offensive
Max hit
50
0
0
0
Style
Speed

5 ticks (3.0s)

Combat levels
Defensive
Armour
Weakness
202
10
Affinities
90
55
45
65
Immunities
[FAQ] • [doc]
The bark blamish snail is one of many snails that roam around the Mort Myre Swamp and the surrounding area.
Their attacks deal Ranged damage despite having a similar animation to Curse. Also, it can only be used in melee range and they have a weakness against Fire spells. They appear to have a max hit of 1 despite what is stated by Monster Examine.
There is one bark blamish snail found north the Nature Grotto, another inside the area around the entrance of the Myreque Hideout, and two in The Hollows. However, there are four of them in the winding path leading to Mort'ton. This area also has the benefit of not being plagued by ghasts and the swamp decay effect.
There is no pointed variant of the Bark Blamish Snail.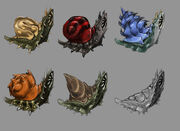 Drops
100% drops
Universal drops
Universal drops are dropped by nearly every monster outside of Daemonheim.
These drops are dropped alongside main drops.
Community content is available under
CC-BY-SA
unless otherwise noted.