Baron von Hattenkrapper is a seagull that takes part in the quests Rocking Out, A Clockwork Syringe, and Pieces of Hate
In Rocking Out, players unknowingly fire him at Young Ralph while using a makeshift vacuum pump while in prison, and he appears to be an ordinary seagull.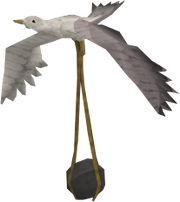 In A Clockwork Syringe, he reveals his identity, as well as his ability to communicate with the player through the use of the Summoning skill. He reveals that he plans to exact revenge on the player for the prison incident, upon which players may choose to claim that their unorthodox method of arriving at the island (through the use of a Cannonball barrel-boat) as a "gesture" for making up for the player's "atonement". Either way, players ultimately enlist his aid to destroy several barrelchests guarding Bloodsplatter Isle; using the Summoning skill, players control the Baron in flight and drop bombs on the barrelchests.
He is later seen during Pieces of Hate, where he's perched at the top of Braindeath Island near the stagnant water pool. Following the events in A Clockwork Syringe, he had been tracking the player and their exploits. He is annoyed that the player allied with his nemesis Count Ludwig Koppenploppen, even if it was only brief. He helps the player in freeing the 'rum'-pumped crabs from their dungeon after being given several barrels of rum, after they soak all the brewery's occupants with 'rum'.
Trivia
The Baron's name is derived from "crapping on hat", alluding to the fact that seagulls are known to defecate on people's hats.
Baron von Hattenkrapper's name is also likely a reference to the character Baron von Trapp from the musical The Sound of Music.
Part 5 of the Pirate quest series
NPCs
Enemies
Items

Braindeath's task
Bill Teach's task
Brass Hand Harry's task
Frank's task
Izzy's task
Obtainable after quest

Locations
Music
Miscellaneous
Community content is available under
CC-BY-SA
unless otherwise noted.