Walkthrough
| | |
| --- | --- |
| Start point | Speak to Wizard Myrtle at the fountains in front of the Wizards' Tower. |
| Member requirement | Free to play |
| Official difficulty | Intermediate |
| Official length | Medium |
| Requirements | Skill requirements are not boostable unless marked with a [B] for boostable. |
| Items required | Items from the tool belt are not listed unless they do not work or are not automatically added. |
| Recommended | |
| Enemies to defeat | |
The sunken island
Krillinary expert
Talk to Brynna.
Catch 2 shrimp.
Cut seaweed.
Chop down a dead tree (You need the seaweed).
Interact with the boulder.
Boil both shrimp on the steam vent (2 squares west of the boulder).
Boil a shrimp again to burn it.
Talk to Brynna twice.
Continue through the west gate.
Talk to Master Chef.
Go to the large jellyfish south-east of the chef's house and play the music box.
Gather seaweed.
Talk to Master Chef.
Prepare the large table 3 times by matching the 3 tastes with 3 ingredients.
Continue through the west door to the small house in the north.
Swordfish
Climb down the ladder.
Talk to mining instructor.
Mine copper and tin.
Add ores to furnace.
Close furnace.
Operate pump.
Light furnace.
Take contents out of furnace.
Smith bronze dagger.
Talk to Instructor.
Continue through the east gate.
Talk to Vannaka.
Open gate and click on the sword in the middle of the room to begin combat training.
Click on the rats and other elements bouncing on the screen.
Exit the cage and climb the ladder to the north-east.
Fishy business
Talk to financial advisor.
Enter the vault (code: 139) and take 25gp.
Talk to financial advisor.
Monkfish
Leave through the east doors, head south to the church and talk to Brother Brace.
Read Friend list and talk to fish on the island. They are in the area around the chapel and to the west of the bank.
One of the fish will tell you where the book is, search for it.
Give the book to Brother Brace.
Go through the south door to the south-east building and talk to Wizard Terrova.
Attack a chicken.
Talk to the wizard.
Commotion in the ocean
Pick any option during the cutscene.
Channel the spell while repelling Crassians.
Finish Hector.
Talk to Wizard Myrtle.
Quest complete!
Rewards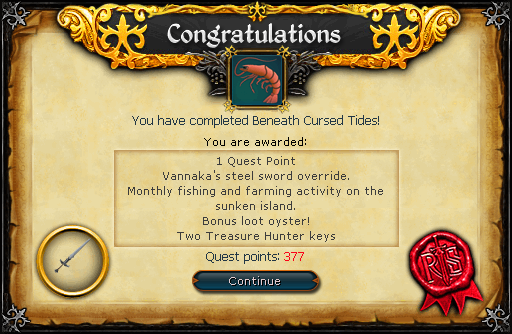 Music unlocked
NPCs
Items
Scenery
Rewards
Locations
Music
Miscellaneous
Quick guide • Transcript