Walkthrough
Start point

Speak to Dondakan in the Keldagrim mines east of Rellekka, and north of the mountain camp.
Member requirement
Members only
Official difficulty
Experienced
Official length
Medium
Requirements
Skill requirements are not boostable unless marked with a [B] for boostable.

Quests:

Items required
Items from the tool belt are not listed unless they do not work or are not automatically added.

Ammo mould (cannot be used from tool belt, easily obtainable during quest.)
50 coins

Recommended:

Enemies to defeat
The dwarven scholar
If you haven't yet completed The Giant Dwarf quest, you will need to talk to the dwarven boatman to visit Keldagrim for the first time, after which you can take the mine carts from Grand Exchange to the city; the boatman is at the entrance upon first crossing the water.
Arzinian Avatar
Teleport to the Edgeville Lodestone and run south-west to the Dwarven Mine.
Talk to Rolad, who is located in the most north-eastern building near the ladder to the mines.
Go down the ladder to enter the Dwarven Mine.
Kill scorpions in the southeast to get the first page.
Search the mine carts for the second page.
Mine the rocks in the mine to find the last page (the rocks in the dungeon connected to the mine do not work).
Return to Rolad , read the book.
Yellow Stones
Head back to Dondakan talk to him, then use a gold bar on him.
Use a gold bar on a furnace with an ammo mould and make a golden cannonball.
Go back to Dondakan and use the golden cannonball on him.
Cannon ergonomics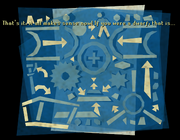 Read the dwarven lore book to find a piece of base schematics.

If you lost the book, you may speak to Rolad.

Talk to the Dwarven Engineer in the west Keldagrim consortium (same one you went to earlier) for another part of the schematics.
Make your gold helmet on the anvil north of the engineer.
Enter the cave under White Wolf Mountain (entrance north of the Taverley lodestone, just behind flax field).
Go to the pub inside the tunnels and talk to Khorvak.
Click assemble on any of the pieces.
Move around the pieces, referring to finished schematics pictured right.
Striking gold
Prepare to fight a level 50-56 enemy, along with your gold helmet. Be sure to have 6-15 free inventory spaces for collecting gold ore.
Return to Dondakan, equip your gold helmet and ask him to shoot you into the rock.
Once inside the cave, do not remove the gold helmet or you will have to restart.
Mine at least 6 gold ores, which is required to damage the enemy. The more ores mined (up to a maximum of 15), the lower its combat level.
Right click on the second ring of fire and select talk.
Kill the Arzinian Avatar.
Speak to Dondakan.
Quest complete!
Rewards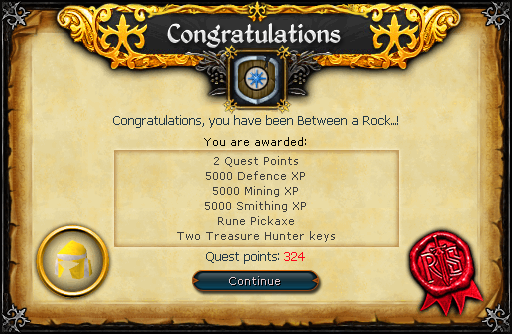 Music unlocked
Community content is available under
CC-BY-SA
unless otherwise noted.