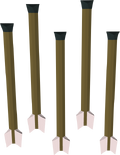 Black brutal arrows are used to kill Zogres south of the Castle wars arena. They are made with Flighted ogre arrows and black nails. Level 38 Fletching is required to make these and they will yield 6.4 experience per arrow. They can only be used with a Composite ogre bow, requiring level 20 Ranged to fire. Black nails are somewhat rare, and only found while mining the rubble in the Burgh de Rott Inn during the In Aid of the Myreque quest, level one clue scrolls, or inside Zogre coffins.
Combat Stats
Requirements
Tier
20
25
Class
Slot
Attributes
Ranged
Armour
0
Life points
0
Weapons
Main
Off
Prayer
0
Damage
192
-
Damage reduction
Accuracy
-
-
PvM:

0%

PvP:

0%

Style
Arrows
Style bonuses
Range
-

0

0

0

[FAQ] • [doc]
Creation
Store locations
This list was created dynamically. For help, see the FAQ.
To force an update of this list, click here.
Disassembly
Standard
Bane
Brutal
Fire
Other
Melee weapons
Ranged weapons
Tools
 Hatchet
Armour
Rewards
 Gloves
 Defender
Other
 Nails

Treasure Trail

Trimmed
Gold-trimmed
Heraldic armour
Other
 Cane
Community content is available under
CC-BY-SA
unless otherwise noted.