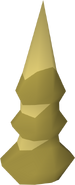 A blamish ochre shell (pointed) is a drop from a Ochre Blamish Snail in Mort Myre swamp. Players can use a chisel or the left-click "Craft" option on it to make an ochre snelm (pointed). Creating an ochre snelm will give the player 32.5 Crafting experience.
Only snails with a pointed shell can drop this variant of the shell.
Drop sources
This list was created dynamically. For help, see the FAQ.
To force an update of this list, click here.
For an exhaustive list of all known sources for this item, see here.
Disassembly