Bottled boost is a Gold Premier Club member's object obtainable from the Guardian of the Vault located on the west side of the Grand Exchange.
The boost is immediately activated, and players do not receive broken fishing rod, tangled fishbowl or barrel of bait in their inventory.
Opening the bottle will allow the player to choose from three Deep Sea Fishing boosts: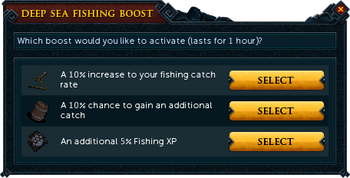 NPCs
Fish and bait
Items
Achievements
Whirlpool titles
Miscellaneous
Community content is available under
CC-BY-SA
unless otherwise noted.