Walkthrough
Start point

Speak to Eli Bacon in his pig pen, by the Falador Farm, north of Port Sarim.
Member requirement
Members only
Official difficulty
Novice
Official length
Medium to Long
Requirements
Skill requirements are not boostable unless marked with a [B] for boostable.
Items required
Items from the tool belt are not listed unless they do not work or are not automatically added.

5 Wheat (Can be obtained during the quest)

Recommended:

Enemies to defeat
Protecting the pork
Speak to Eli Bacon in Falador Farm north of Port Sarim.
Eat the piece of bacon he gives you.
Speak to Eli again.
Build the hotspots and keep adding bacon until Eli has escorted the pigs away (focus on the middle one and they will all swarm to it).
Talk to Eli. Choose any 3 of the show pig suggestions.
Piglet payment
If necessary, gather 5 wheat from the field south-east of the Draynor lodestone.
Talk to Martin the Master Gardener in Draynor Village.
Go north west of Martin and talk to each character (accuse each to quickly find the suspect).
Adulterate the addicts
Talk to Eli for construction materials.
Go north in the cellar and build the machine then improve it.
Gather 5 wheat and give them to Eli.
Go outside and put bacon on the decoys then drug them.
Prized pig
Talk to Eli.
Pick 5 onions just south of Draynor Bank (these must be picked).
Deliver the 5 onions to Eli.
Interact with pig machine.
Watch the cutscene about the pig.
Talk to Eli to receive a pig.
Take the pig to the Lumbridge Castle courtyard.
Take the pig to the Varrock Marketplace (in the centre of town, near the fountain).
Take the pig to the Ardougne Marketplace.
Take the pig to the Falador centre (near the north gate).
Return to Eli.
Quest complete!
Rewards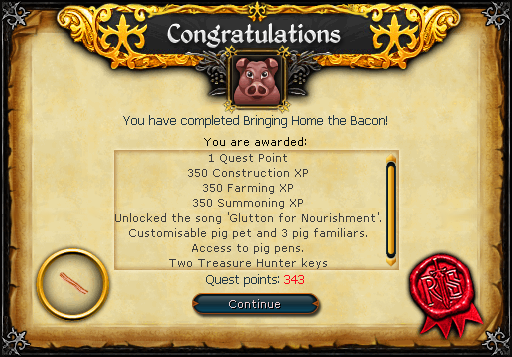 Additional rewards/activities
After the quest, you can upgrade the pig creation machine using Construction, giving you access to stronger pig familiars.
Boosts may not be used to upgrade machines.
Upgrading to tier 2 requires 44 Construction, 44 Crafting and 44 Summoning and 3 oak planks, 2 steel bars and at least 3 nails. Gives 100 Construction and Crafting experience.
Upgrading to tier 3 requires 84 Construction, 84 Crafting and 84 Summoning and 3 teak planks, 2 mithril bars, and at least 3 nails. Gives 1,000 Construction and Crafting experience.
Fully upgrading the machine is a master quest cape requirement.

Music unlocked
Community content is available under
CC-BY-SA
unless otherwise noted.