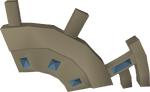 The broken statue headdress is an item available as a drop from Revenants in the Forinthry Dungeon, or as a very rare drop from the Chaos Elemental. It was originally a drop from players in Pvp worlds and Bounty Hunter worlds to replace certain items that were removed from the drop lists in those worlds (such as the Abyssal whip, Dragon full helm, and the Dragonfire Shield). This headdress can be sold to either Mandrith in Edgeville bank, or Nastroth in Lumbridge for 5,000 coins. This is currently the lowest value drop that players can get from Revenants other than coins.
Drop sources
This list was created dynamically. For help, see the FAQ.
To force an update of this list, click here.
For an exhaustive list of all known sources for this item, see here.
Disassembly
Community content is available under
CC-BY-SA
unless otherwise noted.