Bruise Blamish Snail
Release
14 October 2004 (Update)
Members
Yes
Examine
A bruise blue coloured blamish snail, these types are said to spit acid.
Combat info
Level
LP
XP
XP
14
500
32.1
10.5
Equipment XP (2H/MH & Armour/OH)
1 / 1 / 0
Aggressive
Poisonous
Offensive
Max hit
50
0
0
0
Style
Speed

5 ticks (3.0s)

Combat levels
Defensive
Armour
Weakness
202
10
Affinities
90
55
45
65
Immunities
[FAQ] • [doc]
The bruise blamish snail can be found in the depths of the Mort Myre Swamp. A chisel may be used on the shell it drops to make a snelm. There are two types of these snails:
Those with roundish shells, which drop roundish shells.
Those with conical or pointed shells, which drop pointed shells.
Their attacks deal Ranged damage despite having a similar animation to Curse. Also, it can only be used in melee range and they have a weakness against Fire spells. They appear to have a max hit of 1 despite what is stated by Monster Examine.
A chisel (or the "Craft" option) can be used on either shell to make a Snelm of the same shape as the shell. The pointed version of the shell is more valuable, as fewer pointed-shell snails can be found and the item is required in the miniquest, In Memory of the Myreque. Furthermore, the snelms made from their shells are often in demand, being a requirement of a clue scroll.
The snails are aggressive towards lower levels.
Both types of bruise blamish snails spawn just north-east of Fairy ring BKR. Another pointed snail could be found just north of Nature Grotto. Another round snail could be found east of it, and a third just outside of the walls of Castle Drakan.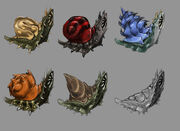 Habitat
Drops
100% Drops
Main drop
Universal drops
Universal drops are dropped by nearly every monster outside of Daemonheim.
These drops are dropped alongside main drops.
Community content is available under
CC-BY-SA
unless otherwise noted.