Build-A-Fayre was a six day community event and Treasure Hunter promotion that was released on 18 April 2017 and hosted by Menowin. It ended on 24 April 2017. During this event players built the helter skelter for the Spring Fayre that succeeded it.
Players received 100 fayre basic tools every day of the event. Players could also obtain fayre golden tools from Treasure Hunter, or buy basic tools with Loyalty Points from Menowin.
Treasure Hunter prizes
Skills featured
Rewards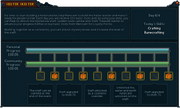 Rewards could be unlocked when both personal and community progress reach certain thresholds. Each set of tools used increased the personal progress by 0.2%, requiring a total of 500 to be used for full progress.
Reaching the full personal progress rewarded an additional small mystery box in addition to the regular reward listed below.
Buying more tools
Additional tools could be bought with Loyalty Points from Menowin. They were offered in two packages:
| Amount of tools | Loyalty Points |
| --- | --- |
| 30 | 5,000 |
| 100 | 12,000 |
A maximum of ten of each of the sets could be bought.
Gallery
Trivia
NPCs
Items
 Fayre basic tools
 Fayre golden tools
Scenery
Rewards
 Mystical staff
 Small mystery box