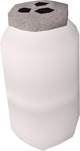 A butterfly jar is used to contain captured butterflies with the Hunter skill. These jars can also be turned into impling jars, providing that you take the steps needed to convert the jar. Butterfly jars cannot be used to hold implings. They can be bought in the Hunter shops in Yanille, Taverley and Nardah or created using 1 charge of a jar generator.
Once a butterfly is contained in a jar, the jar can be used on another player. This has multiple effects which depend on the butterfly used:
Store locations
This list was created dynamically. For help, see the FAQ.
To force an update of this list, click here.
Disassembly
Community content is available under
CC-BY-SA
unless otherwise noted.