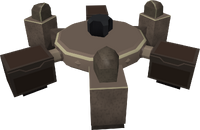 The cannon base is the first part of the Dwarf multicannon to be set up, apart from the stand. It holds together the entire cannon. Players can talk to Nulodion to buy it, or they can buy the cannon base from other players.
The cannon base by itself can decay without having the full Dwarf multicannon set up. A new cannon base can be obtained from Nulodion when lost, free of charge.
The cannon base is part of the Dwarf cannon set, which also contains the cannon stand, the cannon barrels and the cannon furnace.
Store locations
This list was created dynamically. For help, see the FAQ.
To force an update of this list, click here.
Disassembly
Community content is available under
CC-BY-SA
unless otherwise noted.