Walkthrough
Start point

North of the Tyras Camp
Member requirement
Members only
Official difficulty
Master
Official length
Short to Medium
Requirements
Skill requirements are not boostable unless marked with a [B] for boostable.

Quests:

Items required
Items from the tool belt are not listed unless they do not work or are not automatically added.

Recommended:

Enemies to defeat
Fetching the materials
North of the Tyras camp, talk to the guard next to the catapult.
Talk to General Hining in Tyras Camp.
Teleport to the Tirannwn lodestone.
Follow the path north-west, over the leaves trap. Hug the left hand side and pass the stick trap.
Talk to the Catapult engineer for schematics.
Read the schematics.
Talk to the engineer again.
Talk to Rolad at the Dwarven Mine camp, south of Ice Mountain.
Talk to Thaki inside Port Sarim's pub.
Search the drunken sailor outside.
Wear the sailor's hat and talk to Thaki again.
Building the catapult
Return to the catapult north of the Tyras Camp and talk to the guard.
Copy the solution below. Use the big buttons to swap sides.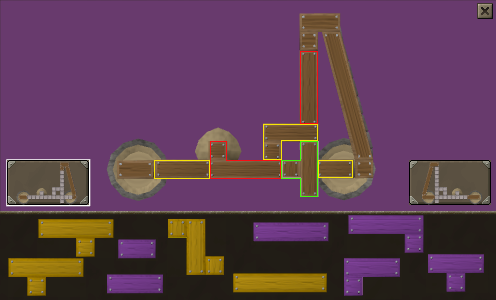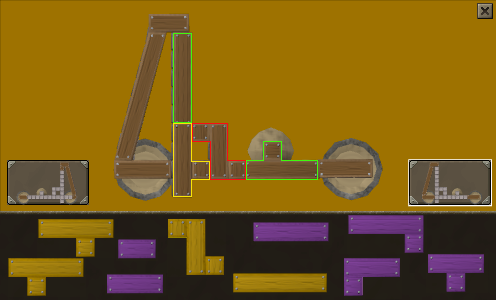 Catapult testing
Talk to the guard.

Shoot the middle rock - requires no counterweight.
Left rock - 5 green bars.
Right rock - 6 green bars.

Talk to the guard again.
Quest complete!
Rewards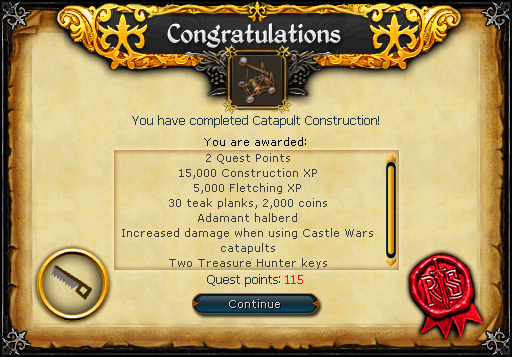 Music unlocked
Meridian (When you finish building the catapult)
Community content is available under
CC-BY-SA
unless otherwise noted.