In the Postbag from the Hedge from 31 January 2008, an image of a Chaos rune with a word search in it is shown. There is also a list of people that don't exist.
List of People
These are anagrams for future summoning familiars:
Kitty Traips - Spirit Kyatt
Greg Oftener - Forge Regent
Roger Vavida - Void Ravager
Gilian Bedooms - Obsidian Golem
Rob A. - Boar
Iris Tiarapulp - Spirit Larupia
Patti Mawns - Swamp Titan
Tori Fishved - Void Shifter
Stan Oblate - Talon Beast
Dr. O Reply - Pyre Lord
Chaos rune word search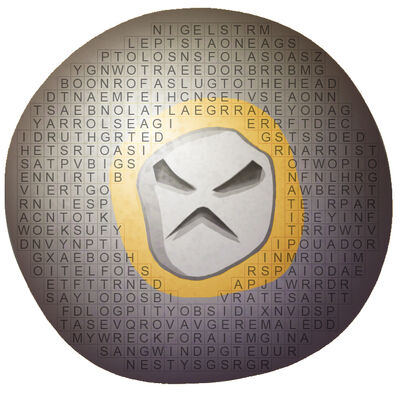 The words are cut off near the end, or they are just random groups of words. They may also be backwards, vertical, and diagonal. Some parts of them have been found:
Obsidi
Sangwin
A slug to the head - Hint towards Hunt for the Red Raktuber
My wreck for a (myreque 4)
Talon Beast
Tease
Spirit Kyatt
Spirit Larupia
Void Ravager
Sir Vant (referring to the knight in Lumbridge who greets new players)
Community content is available under
CC-BY-SA
unless otherwise noted.