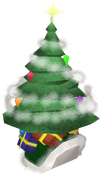 The Christmas tree hat was obtained during the winter event of 2012 by collecting all five coloured presents (dragonstone purple present, diamond white present, ruby red present, emerald green present and sapphire blue present) from other players, the Squeal of Fortune, while skilling or as a drop from monsters, and using the "Claim Reward" option. The presents were made unobtainable after 31 December 2012.
This item is thought to be rarer than its newer discontinued rare items counterpart the fish mask as people had less than two weeks (in comparison to all Summer with the Squeal of Fortune) to collect all of the presents and lack of information given as to how to obtain certain presents at the time by Jagex. As a result, the Christmas tree hat has a far greater price than the fish mask.
Combat Stats
Requirements
None
Class
Slot
None
Tier
None
Weapons
Main
Off
Damage
-
-
Accuracy
-
-
Style
-
Range
-
Attributes
Damage reduction
Armour
0
PvM:

0%

PvP:

0%

Life points
0
Style bonuses
Prayer
0

0

0

0

[FAQ] • [doc]
15 Days of Christmas
During the 15 Days of Christmas in 2013, this item, along with other Christmas-themed equipment, were given the Hybrid style of combat, and stats that scaled with the player's levels. This was so players could use these items in combat to assist in hunting for festive crackers during the event.
Trivia
The use of "fir" instead of "for" in the description is a reference to fir trees, which are often cut and used as Christmas trees.
The Christmas tree hat is the first tradeable holiday rare since the santa hat released in 2002. It was the second tradeable rare of any kind since the santa hat.
The Christmas tree hat has seen one of the longest periods of exponential growth in its Grand Exchange price for any item.
Tradeable Christmas Gifts

Presents
Rewards
Community content is available under
CC-BY-SA
unless otherwise noted.