City Quests are small miniquests involving citizens of Menaphos. They involve completing three tasks such as fetching varying quantities of items and killing certain monsters.
Players may speak to Urluk in the Merchant district and ask if he's heard rumours about City Quests for hints on where to find active City Quests, as well as remind players of their current active City Quest. Players must wait a while after completing their last City Quest before getting another.
A citizen with an available City Quest will have a symbol of Menaphos above their head.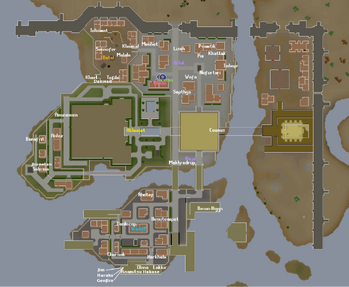 Tasks
Citizens with City Quests
Rewards
Upon completion of a city quest players are awarded 2,000 reputation with their aligned faction and either a small, medium, or large Menaphite gift offering. There is also a chance to receive either the idocrase or hauyne jewels upon completion, if not already owned.
Players may also receive 2-3 slayer points at the end of a city quest, if the city quest has assigned players to kill mobs.
References