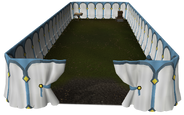 The
Clan meeting tent
can be found in the
Clan Camp
south of
Falador
and in the Clan Citadel.
The Clan meeting tent is used to make several choices in the clan.
When entering the Clan meeting tent, there are two options:
Start a private meeting.
Enter the public tent.
To start a private meeting you need to be queued for Rated Clan Wars. As Rated Clan Wars leader you can also set who can enter the private meeting selecting on rank.
Voting box

The
voting box
is used to initiate a vote within the members of a clan attending the clan meeting.
Creating a Clan vote
Click on the Box Voting.
Will say that there is no vote in progress.

Now they will ask if you want to create a vote, choose the one that says "Yes, start the vote.".
Choose the minimum rank and the minimum time.
Then click "Begin Vote".
Members of the clan will then vote on something whether it be an event or a rank promotion for someone.
Ledger

The ledger is used to invite members of the clan to go to the Clan tent.
Items dropped in the Clan tent are visible to other clan members.
Community content is available under
CC-BY-SA
unless otherwise noted.