The clay deposit scroll from the Stealing Creation minigame is made by using any class of Sacred Clay on a Creation kiln. With a clay deposit scroll, players can use the Clay Deposit special moves. This stores all the familiar's Beast of Burden items in the base. This can be extremely useful, especially when far away from your team's base. If players have low Summoning levels, then they should make stackable items, e.g. scrolls, arrows, or runes, and use the familiar to carry them and deposit them. This requires 30 special move points, meaning that a player could only use it twice in a row before it has to recharge.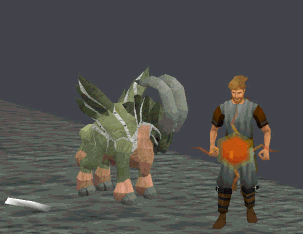 Regular familiar scrolls

Gold charm
Green charm
Crimson charm
Blue charm
Elder charm
 Siphon self
 Annihilate
Other
 Fetch casket
 Clay deposit
 Ghastly request
Dungeoneering familiar scrolls

Sundering strike
Poisonous shot
Aptitude
Glimmer of light
Snaring wave
Second wind
Community content is available under
CC-BY-SA
unless otherwise noted.