The closed chest is a locked chest located in the Agility Dungeon in Yanille. It is in a part of the dungeon that requires 49 Agility to access. The chest can only be unlocked with the sinister key, which is a drop from Salarin the Twisted or a possible loot from a magpie impling jar/magpie impling. If opened, the chest will emit a toxic gas, which poisons the player starting at 62 life points, so it is advised to bring an antipoison or other method of curing or preventing poison.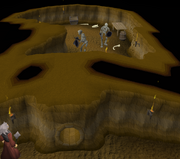 Contents
The nine grimy herbs that the chest contains are always the same.
Money making
Opening closed chests
Profit
Skill requirements
Other requirements
Experience

1,506,682.17

49
58 recommended
67 recommended
Watchtower recommended
The Elder Kiln recommended
None
Trivia
Before the release of the Farming skill in 2005, this chest was the only way to obtain torstol.
Prior to an update, the chest was called the "Sinister chest."
Player-owned house
Loot
Closed chest
Thieving
Treasure Trails
Other
Community content is available under
CC-BY-SA
unless otherwise noted.