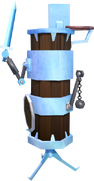 A combat dummy MKII is a device that can be made at level 113 Invention. Once deployed, the dummy is attackable by any player for one minute. The primary usage is to generate or stall adrenaline prior to, or during a boss encounter. No experience is gained from fighting it.
Creation
Combat dummy MKII
-
600 XP
-
-
Requirements
Invention level
113
Research: Combat dummy MKII
Members only
Yes
Materials
Item
Quantity
Price
Total
Deflecting parts
15
N/A
-
Strong components
2
N/A
-
Community content is available under
CC-BY-SA
unless otherwise noted.