See God Wars for more information.
Every race, god, civilisation, and animal species fought during the God Wars, resulting in the destruction of most of the world. Many of the combatants, both mortal and immortal alike, have long since been forgotten.
Gods
As the name suggests, the main combatants in the God Wars were the gods themselves. It was the gods that commanded their followers, fighting for land, honour, and ultimately the rule of Gielinor. Below is a list of gods and their role in the wars.
While the Menaphite Pantheon, according to both Saradomin in the God Letters and the Armies of Gielinor game, did indeed participate in the God Wars, it is unclear on precisely which side they fought on.
It is unknown if Brassica Prime or the Fremennik gods fought in the God Wars.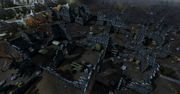 Significant Mortals
The gods alone could not fight; each commanded vast armies, some containing thousands of mortals. Few individuals who fought in the God Wars are still remembered; most have long since been forgotten. Listed below are known combatants in the God Wars, as well as their role in the war.
Hazeel - Hazeel is a Mahjarrat and was one of Zamorak's first allies. He was originally a follower of Zaros, but when Zamorak began organising a rebellion against Zaros, the lord of the Mahjarrat, Hazeel quickly rushed to his aid. Hazeel was present during the battle that gave Zamorak his godhood, where he helped to fend off Zaros's bodyguards. When the God Wars began, Hazeel continued to assist Zamorak, and is famous for conquering the land that is now Ardougne. Hazeel's white skin is covered in ceremonial tattoos and small horns protrude from his skull, making him a fearsome sight to behold.
Thammaron - Thammaron was an Elder Demon, and was forced to retreat into a hidden portal. Here he soon died of the wounds inflicted upon him by the golems. The damage he had done to Uzer, however, was devastating, and the only survivor was a lone golem; one of the very elite golems that was sent to defeat Thammaron.
Azzanadra - Azzanadra was the Champion of Zaros, and he led the remaining followers of Zaros after the betrayal. He was believed to be invincible for a long period of time, until a powerful spell was cast upon him to bind his power into four diamonds representing each aspect of his magic - ice, blood, shadow and smoke. It is possible that Saradominists and Zamorakians worked in unison to defeat him. After Azzanadra was imprisoned, the Zarosian struggle was quelled, as they had no hope for victory, and the remaining followers of Zaros made their home near the Pyramid, where they plan their revenge.
Sliske - Sliske is a powerful Zarosian Mahjarrat with "power over shadows", although it is not known if this means he is proficient in the shadow branch of Ancient Magick, or something else entirely. The first mention of him came from the mouth of Azzanadra himself, who called him "the snake-tongued". Sliske did not kill the Barrows brothers, but he did reanimate their spirits, and he still retains control over them, as shown during Ritual of the Mahjarrat. He is apparently still on the lookout for strong warriors to add to the Barrows.
Enakhra - Enakhra was a devout follower of Zamorak, although Zamorak never personally thought of her as very important. To please her master, she constructed a large temple in the Kharidian Desert in Zamorak's name. However, Zamorak was not impressed, stating that he would rather have a weapon that could kill a god than a temple. Enakhra's role in history lessened greatly after her failure, until she eventually managed to imprison Akthanakos in the temple.
Akthanakos - Akthanakos was one of the few Mahjarrat that remained loyal to Zaros after his defeat. After Zamorak became a god, Akthanakos became involved in the Kharidian Desert, although details regarding his actions are few. He was soon imprisoned in Enakhra's temple, and remained there until he was freed by an adventurer. Akthanakos is famous for his creation of the ugthanki, a species of aggressive camel whose name is derived from his own. Akthankos used these creatures as beasts of war.
Zemouregal - Zemouregal was one of the Mahjarrat that aided Zamorak during the rebellion and was present in the assault on Zaros's castle. He is noted for his expertise in the art of necromancy, which he used to raise vast armies of the undead to serve Zamorak during the God Wars. When the God Wars ended, he seemingly disappeared, and was forgotten until his famous assault on Varrock in the Fourth Age.
Lucien - Lucien, also a Mahjarrat, aided Zamorak in his attack on Zaros's fortress. Lucien's skills as a mage are said to be incredible, even enough to hide the power of a weapon such as the Staff of Armadyl. Physically, though, he is very weak, and so he attacked mainly through the use of magic. During the wars it is believed that he may have searched for a powerful energy source, and although he did not find it in time to use it during the wars, recent discoveries have lead him to believe it may be hidden in the Dorgesh-Kaan South Dungeon.
Lord Lowerniel Vergidiyad Drakan - A Zamorakian vampyre who aided in the overthrow of Zaros. Drakan launched a massive attack on Morytania, known at the time as Hallowvale. Its lush forests and massive civilisations were soon crushed, and the lands were flooded with cursed waters which made the land into a swamp. He ultimately conquered Hallowvale, despite the efforts of Hallowvale's Queen Efaritay to save the land.
Commander Zilyana* - Commander Zilyana was an icyene, resembling a winged woman. One of Saradomin's most valued followers, Zilyana had many titles, although her favourite is that of "Keeper of the Faith", a position bestowed upon her by Saradomin himself. She delivered divine justice with a mighty blade, which she wielded with unmatched skill. She was present at the battle in the God Wars Dungeon.
Starlight*, Bane of Darkness - Starlight was a unicorn, and a loyal follower of Saradomin. Heavily armoured, her method of attack involved plowing her way through enemy forces, her horn held low, ripping through the organs of her foes. Her title, Bane of Darkness, was cursed by Zamorakians. She was also, at one point, one of Commander Zilyana's bodyguards.
Growler*, Defender of the Faithful - A lion-like beast that served Saradomin and served as one of Commander Zilyana's protectors. Growler was a defender of Saradomin's scattered monasteries, which could rarely survive for long during the wars. Although usually a pacifist, Growler's razor-sharp fangs were used with deadly skill if he was pressed into combat.
* = Still fightable in the God Wars Dungeon.
The Role of the Races
Nearly every race of the time fought in the God Wars, and those that were fortunate enough to escape the fighting were forced to hide themselves, often beneath the surface of the world. Many races were completely destroyed during the God Wars, and have since been forgotten. Below is a list of known races that partook in the wars and their roles.
Humans - As they are today, humans were the most diverse race of the God Wars. Nearly every god had a human following, although some, such as Bandos, probably thought them too inferior to be considered worthy followers. During the God Wars, humans were not as dominant as they are today, and were often considered to be weaker than other races.
Dwarves - The dwarves' role in the God Wars was very brief. Shortly after the wars began, the dwarves realised that the battle could very well threaten their very existence, and fled beneath Trollweiss Mountain. Here they found a vast cavern, and using magic, constructed the grand dwarven utopia of Keldagrim. They quickly adapted to their new way of subterranean life, creating many new methods of mining and smithing.
Mahjarrat - The Mahjarrat are a strange species, taking many different forms and possessing many strange abilities. Their amazing strength made them useful soldiers to Zaros after he liberated them from the enslavement of Icthlarin. They were disloyal, though, and most of them joined Zamorak in his overthrow of Zaros. An intense hatred between Zarosian and Zamorakian Mahjarrat developed, and most of the Zarosian Mahjarrat were imprisoned or killed. The Mahjarrat flourish during times of war and it is said that they ruled like kings during the god wars.
Demons - Demons are a deadly race that ally themselves mainly with Zamorak who usually come from other realms. Their strengths and abilities vary greatly, with some capable of casting deadly spells. The demons of the God Wars were generally more fierce even then those that exist today, and some were renowned for levelling entire cities or decimating entire armies.
Dragon Riders - Little knowledge remains of the Dragon Riders, and whether or not they were an entirely separate race remains unknown. They are said to have been mounted on colossal wyrms, and were mighty assets in an army.
Giants - The giants were followers of Bandos although in Armies of Gielinor, Moss Giants are followers of Guthix, and amongst his most barbaric followers. Unlike the rest of Bandos's followers, giants are not capable of speech, and are incapable of constructing but the simplest of weapons.
Ogres - Ogres were some of Bandos's most numerous followers. Their brute strength made them very effective soldiers. Worse even than simple ogres, though, were the Ogre Shamans. The ogres are believed to have conquered the Feldip Hills during these time with the aid of Bandos himself.
Jogres - A sub-species of ogres. Inhabitants of many jungles of Karamja served Bandos due to their belligerence and fairly large numbers.
Trolls - There is no record, strangely, of the trolls' involvement in the God Wars. It is assumed by some that they were followers of Bandos, but the fact that they are not included in the Armies of Gielinor Funorb game suggests that, for some reason, they did not participate in the God Wars (besides the conflict with the dwarves, which is generally assumed to be a separate business). The trolls today have no knowledge of this time, as they are too unintelligent to keep written records.
Vampyres - The vampyres followed Zamorak in massive numbers, and became some of his most important followers. Their long lives, ability to fly, and amazing combat prowess created a feared name amongst the enemies of Zamorak. Many of them were led into Morytania, where they became Lord Drakan's close followers. They conquered the land, enslaving or killing its inhabitants.
Werewolves - Werewolves usually take the form of humans, but when provoked, they become savage beasts. Capable of devouring a cow whole, these beasts share their bloodlust with their lord, Zamorak. During the God Wars, the werewolves were considerably more dangerous than even today; the evil magic which covered much of the world allowed them to become wolves at will, making them a threat to even the mightiest of warriors.
Aviantese - The Aviantese were devoted to Armadyl, and were Armadyl's personal favourites. When the bird-like race nearly became extinct, Armadyl left Gielinor in mourning, believing they were dead. Some were frozen in the God Wars Dungeon, where they remain today.
Orks - Orks were Bandos's most powerful warriors. Although smaller than a giant or cyclops, these creatures' slightly higher intelligence allowed them to wield stronger weapons with greater skill, making them valuable assets to Bandos's army. They were nearly lead to extinction during the Wars due to their overuse in battles.
Imps - Imps, a small type of demon, were used by Zamorak. As imps do not seem to be very bright, some define them as a creature, rather than a race. However, the fact that most imps talk fairly coherently (albeit with a significant cockney accent)probably disproves this claim. In any case, imps often numbered in the thousands during battle, using their numbers to overwhelm their enemies. Although merely an annoyance individually, imps were a serious threat during the God Wars when united.
Wild Creatures
Not even the wild fauna that roamed Gielinor could hope to escape the terrors of the God Wars. Many beasts were enslaved as riding animals, beasts of burden, or sometimes even soldiers, although some willingly went to the aid of a god. Many creatures were driven to extinction during the wars. Below is a list of creatures whose roles in the wars are definitive, along with their purpose.
wyverns - For some time the wyverns inhabited Asgarnia, which was much colder during the early years of the God Wars than it is today. They were used by some races as riding animals, but they were soon driven to near extinction by massive climate shifts.
Bloodveld - Bloodveld fought for Zamorak, using their long tongue to drain the life from their foes. It is possible that they were used as pack mules as well, although there is no evidence to support this. There is the possibility they were created by the Vampyres, due to their presence under Meiyerditch
Goraks - Fought at the side of Zamorak and were sent to a separate plane by Guthix, as they were too dangerous for Gielinor. However, some still live and fight in the God Wars Dungeon. Goraks are dangerous black creatures known for their brute strength. Their unholy nature which allowed them to hit through prayer, and skill in combat made them some of the most dangerous combatants in any battle.
Unicorns - Not even unicorns, some of the most sacred of animals, could escape the threat of Zamorak and other such gods. The unicorns rode to the side of Saradomin, where they served as soldiers using their horns and hooves to plough through enemies . It is unlikely that they were ever used as beasts of burden or as riding animals due to their holy nature, although some were tainted and became black unicorns.
Dragons (Wyrms) - The dragons that exist today pale in comparison to the colossal wyrms of the God Wars. These beasts were far larger than even the King Black Dragon, and would set the very skies alight with the terrible fire they produced from their mouths. The Dragon Riders, an elite group of loyal Zamorakians, managed to tame these creatures and use them in battle.
Giant frogs - Giant frogs are noted for their use by General Bonehelm, the leader of the Dorgeshuun tribal faction. After his retreat from Dorgesh-Kaan, General Bonehelm captured a large number of giant frogs in the surrounding caves, which he used as cavalry mounts during his attack on the city.
Hellhounds - Hellounds were used by Zamorak as soldiers in battle. After much training, these creatures would willingly attack only enemies in battle. Often, as Zamorak's hordes approached, the baying of these demonic hounds could be heard, striking fear into the hearts of opponents.
Icefiends, Waterfiends, and Pyrefiends - Zamorakian mages were known for their ability to morph the elements themselves into soldiers that would serve them loyally. These creatures, dubbed "fiends", were not particularly strong, but could be created in great numbers.
Dark beasts - Although their allegiance is unknown, it is likely that the Dark Beasts served Zamorak. Capable of crushing their foes in a number of ways, these creatures were surely amongst the most powerful beasts in the God Wars.
Dagannoths - Very aggressive creatures that lived in the seas north of what is now Rellekka, it is likely that they did not notice the wars.
Community content is available under
CC-BY-SA
unless otherwise noted.