Commander Zilyana
Also called
Saint Zilyana
Release date
28 August 2007 (Update)
Members
Yes
Combat level
210
XP per kill
5,630 (and 1,857.9 experience)
Examine text
Commander of Saradomin's forces.

Combat info
LP
Max hit
50,000
1,900
Attack
Defence
Ranged
Magic
75
75
1
75
Immune to
Poison
Stun
Deflect
Yes
Yes
No
Attack speed

Undefined

Aggressive
Poisonous
Yes
No
Attack styles
Weakness
Melee
Magic
Nothing
[FAQ]
•
[doc]


Commander Zilyana, Keeper of the Faith, is the leader of Saradomin's army in the God Wars Dungeon. She is an Icyene, an ancient race of winged beings, chosen by Saradomin to guard his hilt. Commander Zilyana uses a melee attack and a magic attack. She uses them randomly and both attacks are quite accurate. She attacks with her multi-target magic attack when her sword glows with a bright blue aura and she raises it in the air. If the attack hits a player, a small wall of lightning will appear around the player. If her magic attack fails, nothing happens (no 0 life points splat, no splash). She attacks with melee when she simply slashes at the player with her sword. Her melee attack is not multi-target. Both her magic and melee attacks only work at close range.
In addition, both her magic and melee attacks have a max of 1900 life points and they are both very rapid (same speed as dual-wielded dagger-speed weapons), so players should be careful fighting her. She will also target the player that has currently done the most damage to her.
Commander Zilyana is located in the back room of Saradomin's Encampment. Players must have 70 Agility and 40 Saradominist kills to reach her. In addition, she has 3 guards: Growler (magic), Bree (ranged) and Starlight (melee).
Note: You can not reach her if you do not have 70 agility (neither summer pies nor agility potions will help).
Commander Zilyana is dangerous and should not be underestimated. She is tied with fellow God Wars Dungeon bosses General Graardor, K'ril Tsutsaroth and Kree'arra for having the fifth highest combat level among monsters that can be fought with conventional means in RuneScape. Only Nex, the Queen Black Dragon, Vorago, and the Kalphite King are stronger.
If Blood spells are used on her consistently, the message "Commander Zilyana becomes more enraged by your spells and tries to channel them to increase her own power!" will appear in the chatbox, and her power will be boosted, granting her stronger attacks. This effect stacks (although there is a cap to it), so continued use of blood spells may prove fatal.
Bodyguards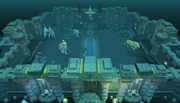 Quotes
When in battle, the Commander shouts several battle cries while fighting the players that dare to venture into her domain. She is voiced by Mod Ana.
Death to the enemies of the light!
Slay the evil ones!
Saradomin lend me strength!
By the power of Saradomin!
May Saradomin be my sword.
Good will always triumph!
Forward! Our allies are with us!
Saradomin is with us!
In the name of Saradomin!
Attack! Find the Godsword!
Hard Mode
When fought in Hard Mode, in addition to increased stats, Zilyana has two phases to the fight, with additional abilities. She also has better drops, although chances for Saradomin swords and the amulets are not boosted.
Phase 1
In Phase 1, Commander Zilyana has the same attacks as she does in standard mode, however, after being defeated once, Commander Zilyana will heal back to full health and must be defeated again, beginning Phase 2.
Phase 2
Lightning
During Phase 2, Zilyana gains the ability to summon squares of lightning throughout the room. Standing on these spaces can deal over 1000 damage.
Death
Once her health reaches zero, Commander Zilyana will lie down on the floor and a bar that looks similar to an adrenaline bar appears under her lifepoints bar. She is invulnerable during this time, and the only way to finish her off is to successfully hit her with an Ultimate Ability before the bar fills up. If this is not done, she heals 1/3 of her lifepoints.
Strategy
Drops
100%
| | Item | Quantity | Rarity | GE price |
| --- | --- | --- | --- | --- |
| | Bones | 1 | Always | 266 |
Community content is available under
CC-BY-SA
unless otherwise noted.