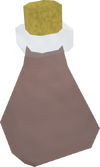 Compost potions (also known as supercompost potions) are used to make supercompost. Players may use a dose on compost to make it into supercompost, or use a dose on a full compost bin to obtain 15 supercomposts.
Players are advised to use these potions for their own compost bins instead of selling them away, as they will earn more by making buckets of supercompost. Note that the player cannot add a dose of compost potion to compost bins containing a combination of normal compost and supercompost vegetation (in any combination).
This potion cannot be made with the Herblore skill. Because of this, the item almost never is purchasable on the Grand Exchange in any number of doses, as they are never readily available, and people make more money by making supercompost without them. It is much simpler and cheaper to simply use pineapples on the compost bin than using these potions.
This potion is one of the few un-drinkable potions in the game. This may explain why it cannot be made using Herblore.
Obtaining compost potions
Dropping monsters
For an exhaustive list of all known sources for this item, see here.
| Source | Combat level | Quantity | Rarity |
| --- | --- | --- | --- |
| Zombie | 13; 18; 24; 25; 30; 32; 40; 44; 53; 78; 85 | 1 | Common |
See also
Unfinished potions
Combat potions
Recovery potions
Cures and antipoisons
Skill potions
Weapon poisons
Quests
Minigames
Miscellaneous
Community content is available under
CC-BY-SA
unless otherwise noted.