"Summons" redirects here. For the skill, see
Summoning
.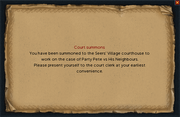 A court summons is an item required to take part in the Court Cases Distraction and Diversion. Completion of the King's Ransom quest is required to obtain a court summons. Players can only have one court summons at a time.
Reading the court summons, the player is informed which case has been assigned to them. Players seeking a specific court summons can destroy unwanted summons, allowing for another summons to be obtained. This can be useful for players looking for specific rewards, although it may be faster to complete the case, ensuring the case will not appear again.
Acquiring
Court summons can be obtained through a variety of means:
Drop sources
This list was created dynamically. For help, see the FAQ.
To force an update of this list, click here.
For an exhaustive list of all known sources for this item, see here.
Pickpocketing
The following table outlines suggested monsters that can reward a court summons when pickpocketed. This is not an exhaustive list.
Strategies
Disassembly
Community content is available under
CC-BY-SA
unless otherwise noted.