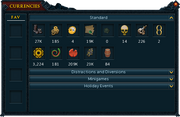 The currency pouch is a wallet for many different types of currencies, notably including bonds and Treasure Hunter promotional tokens. It can be accessed anywhere from the backpack interface. Only current members can see currencies relating to members' content.
It was originally released on 28 July 2014 as the bond pouch, until 4 April 2016 when Treasure Hunter items were added. Finally on 26 September 2016, it was expanded from microtransaction items to its current format. Before this, many currencies (such as Tokkul) took up slots in the inventory or bank as proper items, while others (such as Dungeoneering tokens) would only be visible in certain interfaces.
To access the currency pouch in the Legacy Mode interface, Right-Click the gold icon below the Minimap, click Currency Pouch, then click the golden gear icon that shows at the bottom right of the inventory.
Currencies
The following can be stored in the pouch:
Main items
Standard
Distractions & Diversions
Minigames
Holiday events
Discontinued
Gallery
Community content is available under
CC-BY-SA
unless otherwise noted.