Cyclops
Release
1 December 2003 (Update)
Members
No
Examine
A one-eyed man eater.
Combat info
Level
LP
XP
XP
63
4,500
198
65.3
Equipment XP (2H/MH & Armour/OH)
11 / 7 / 3
Aggressive
Poisonous
Slayer
Level
XP
Category
1
59.4
Cyclopes
Assigned by
Offensive
Max hit
180
0
0
0
Style
Speed

5 ticks (3.0s)

Combat levels
Defensive
Armour
Weakness
732
45
Affinities
90
55
45
65
Immunities
[FAQ] • [doc]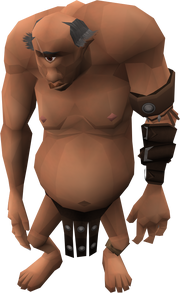 A cyclops (plural cyclopes) is a monster primarily found on the top floor of the Warriors' Guild, and some can also be found in the Ardougne Zoo and the God Wars Dungeon. They are native to Cyclosis, an island in the Wushanko Isles. In the Warriors' Guild, many players fight them in hopes of getting a defender, as they are the only monsters that drop them besides Cyclossus. Guild Cyclopes come in two varieties: Level 57 (which are bald) and Level 68 (which have hair). They have low defence and a reasonably high number of life points, making them a very good training monster. However, they are completely impervious to ranged and magic. The level 57 cyclopes are the lowest level monster to drop Hard Clue scrolls, although they do not drop them often. Many players bring runes for High Level Alchemy because cyclopes drop Steel, Black, Mithril, and some Adamant items. However, this is not entirely necessary, as the shop on the floor just below them buys all the cyclopes' drops at high alch prices. The cyclopes are also aggressive in the warriors guild making them useful for training, despite the token system. The cyclopes are known to be followers of Bandos.
Luck-enhancing items do not increase the chance of getting a defender. Players may spend anywhere from very few to thousands of tokens before getting defender drops (though it would appear that the Dragon defender drops more frequently than the other defenders).
It is important to note that if a player logs out while fighting cyclopes, they will be outside of the room upon logging in and must reselect their choice of token payment.
Cyclopes sometimes summon a Cyclossus in the Warriors Guild. It possesses considerably more life points, though it only has a max hit of 97. Its special attack knocks the player backwards and stuns them, so it is advisable to be stand against a wall, so that if it does stun, players can still melee it. A cyclossus will not be aggressive if a player is not equipped with a rune or dragon defender, and the player will not be able to attack it either if that is the case. The chance of encountering a Cyclossus increases if the multi-token option is chosen.
Weaknesses
In the Warriors' Guild, the Cyclopes have varying melee weaknesses. It is advisable to target the ones weak to a player's specific weapon setup (crush, stab, etc) to maximise kill rates.
The Cyclopes found in Ardougne Zoo and the God Wars Dungeon are weak to Earth spells.
Location
The level 57 and 68 cyclopes may be found in the Warriors' Guild. To get inside the Warriors' Guild, a player's Attack and Strength levels must add up to a sum of 130 or greater, or either of these stats can be level 99. In order to enter the Cyclops area, located on the third floor, a player must gain at least 200 Warrior guild tokens. 20 tokens are no longer used up immediately upon entering the room, but 20 are still depleted every minute. The player must leave when the tokens run out, and will be forced out if they do not do so.
Level 91 cyclopes inhabit the God Wars Dungeon in the Bandos' stronghold, and therefore require 70 Strength to access. These cyclopes do not drop defenders.
There is also a level 63 Cyclops in the Ardougne Zoo. This cyclops does not drop defenders.
Drops
100% drops
^

2 noted if using all token types, 1 unnoted otherwise
Main drops
| | Item | Quantity | Rarity | GE price |
| --- | --- | --- | --- | --- |
| | Iron 2h sword[1] | 1 | Common | 1,421 |
| | Steel dagger[1] | 1 | Common | 991 |
| | Steel mace[1] | 1 | Common | 1,045 |
| | Steel sword[1] | 1 | Common | 1,044 |
| | Black sword[1] | 1 | Common | 2,652 |
| | Off-hand black sword[1] | 1 | Common | 1,123 |
| | Black dagger[1] | 1 | Common | 2,067 |
| | Off-hand black dagger[1] | 1 | Very rare | 880 |
| | Black knife[1] | 4–19 | Common | 960–4,560 |
| | Off-hand black knife[1] | 4–19 | Common | 356–1,691 |
| | Steel longsword[1] | 1 | Common | 1,390 |
| | Steel battleaxe[1] | 1 | Common | 1,785 |
| | Steel 2h sword[1] | 1 | Common | 1,756 |
| | Black longsword[1] | 1 | Common | 1,609 |
| | Off-hand black longsword[1] | 1 | Common | 1,113 |
| | Black 2h sword[1] | 1 | Uncommon | 2,408 |
| | Mithril dagger[1] | 1 | Uncommon | 1,477 |
| | Mithril longsword[1] | 1 | Uncommon | 2,600 |
| | Adamant mace[1] | 1 | Uncommon | 2,731 |
| | Adamant 2h sword[1] | 1 | Rare | 7,067 |
| | Steel arrow[1] | 5 | Rare | 60 |
| | Rune dagger[1] | 1 | Very rare | 3,951 |
| | Iron chainbody[2] | 1 | Common | 794 |
| | Steel chainbody[2] | 1 | Common | 1,500 |
| | Iron full helm[2] | 1 | Uncommon | 924 |
| | Iron kiteshield[2] | 1 | Uncommon | 881 |
| | Steel helm[2] | 1 | Uncommon | 1,079 |
| | Defender[2][3] | 1 | Uncommon | Not sold |
| | Mithril sq shield[2] | 1 | Rare | 2,515 |
| | Rune helm[2] | 1 | Very rare | 10,224 |
| | Warpriest of Bandos helm | 1 | Varies[4] | Not sold |
| | Warpriest of Bandos cuirass | 1 | Varies[4] | Not sold |
| | Warpriest of Bandos greaves | 1 | Varies[4] | Not sold |
| | Warpriest of Bandos gauntlets | 1 | Varies[4] | Not sold |
| | Warpriest of Bandos boots | 1 | Varies[4] | Not sold |
| | Warpriest of Bandos cape | 1 | Varies[4] | Not sold |
| | Law rune | 2; 3 | Rare | 978–1,467 |
| | Death rune | 2 | Rare | 264 |
| | Nature rune | 2; 3 | Rare | 854–1,281 |
| | Mind rune | 2; 3 | Rare | 36–54 |
| | Cosmic rune | 2; 3 | Rare | 846–1,269 |
| | Water rune | 7 | Rare | 105 |
| | Fire rune | 15 | Rare | 1,020 |
| | Redberry seed | Unknown | Unknown | 1 |
| | Woad seed | 1 | Unknown | 44 |
| | Hammerstone seed | 3 | Unknown | 15 |
| | Potato seed | 1 | Unknown | 35 |
| | Sweetcorn seed | 3 | Unknown | 132 |
| | Watermelon seed | 1 | Unknown | 1,471 |
| | Avantoe seed | 1 | Unknown | 236 |
| | Marrentill seed | 1 | Unknown | 19 |
| | Strawberry seed | 1 | Unknown | 434 |
| | Bittercap mushroom spore | 1 | Unknown | 1,754 |
| | Belladonna seed | 1 | Unknown | 955 |
| | Wildblood seed | 1 | Unknown | 75 |
| | Cabbage seed | 4 | Unknown | 132 |
| | Yanillian seed | 2 | Unknown | 84 |
| | Ranarr seed | 1 | Unknown | 783 |
| | Tarromin seed | 1 | Unknown | 49 |
| | Harralander seed | 1 | Unknown | 55 |
| | Whiteberry seed | 1 | Unknown | 45 |
| | Jangerberry seed | 1 | Rare | 9 |
| | Spirit weed seed | 1 | Rare | 5,552 |
| | Dwarf weed seed | 1 | Rare | 381 |
| | Cactus seed | 1 | Rare | 56 |
| | Cadantine seed | 1 | Rare | 1,219 |
| | Limpwurt seed | 1 | Rare | 293 |
| | Irit seed | 1 | Very rare | 533 |
| | Lantadyme seed | 1 | Very rare | 190 |
| | Toadflax seed | 1 | Very rare | 1,600 |
| | Grimy dwarf weed | 1 | Rare | 2,691 |
| | Grimy irit | 1 | Rare | 3,342 |
| | Grimy avantoe | 1 | Rare | 687 |
| | Grimy guam | 1 | Rare | 342 |
| | Grimy ranarr | 1 | Rare | 1,543 |
| | Grimy kwuarm | 1 | Rare | 5,101 |
| | Grimy tarromin | 1 | Rare | 27 |
| | Grimy harralander | 1 | Rare | 54 |
| | Grimy lantadyme | 1 | Rare | 3,403 |
| | Grimy marrentill | 1 | Rare | 361 |
| | Grimy cadantine | 1 | Rare | 2,393 |
| | Beer | 1 | Common | 889 |
| | Coins | 5–473 | Common | 5–473 |
| | Body talisman | 1 | Uncommon | 244 |
| | Fire talisman | 1 | Uncommon | 2,037 |
Tertiary drops