Walkthrough
Start point

Talk to Gideon Bede in the church north of Varrock Museum
Member requirement
Free to play
Official difficulty
Novice
Official length
Short
Requirements
Skill requirements are not boostable unless marked with a [B] for boostable.

Capable of defeating a level 15 demon with melee.

Items required
Items from the tool belt are not listed unless they do not work or are not automatically added.
Recommended

Food (recommended regardless of combat level)

Enemies to defeat
The Trials
Talk to Gideon Bede inside the church in north-east Varrock.
Climb down the trapdoor in the room.
Walk north and speak to any of the spirits.
Mind
Speak to the spirit inside the eastern room.
Answer the series of questions.
Faith
Speak to the spirit in the northern room, who'll guide you to the other side.
The correct pathway is: 3 North, 2 East, 3 North, 2 West, 1 South, 2 West, 4 North.
Body
Speak to the spirit in the western room.
Defeat all 10 skeletons.
For Varrock!
Talk to the spirits in the central room and claim Silverlight.
Go back up the ladder and read the scroll to the north of the trapdoor.
Go to the temple in south-east Varrock, directly south of the rune shop.
Climb down the trapdoor outside the temple near the western wall.
Make your way west to the large room, killing all the cultists along the way.
Fight Delrith. Run into Gideon's dome shield to negate most of the damage. Only Silverlight or Darklight will work.
Speak to Gideon again.
Quest complete!
Rewards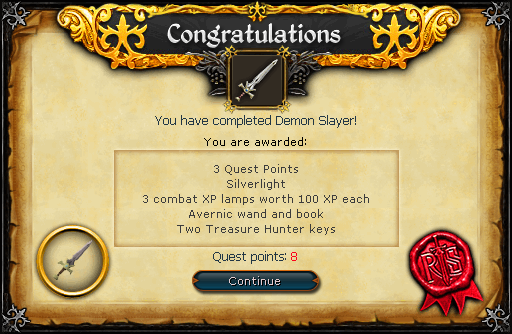 Community content is available under
CC-BY-SA
unless otherwise noted.