The doll is an unobtainable item added to the game alongside the Spirit of Summer quest. While unobtainable as an item in the final version of the quest, it is still involved. It is seen buried under a diseased Limpwurt plant in the spirit realm, which players must remove by growing a healthy plant in the real world. Once it is done, Summer will retrieve it herself. After this, she is seen holding it for the remainder of the quest and its sequel.
Trivia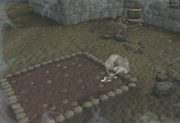 Community content is available under
CC-BY-SA
unless otherwise noted.